Here is everything you need to know about the amazing Disney movie The One And Only Genuine Original Family Band  including casting, reviews, fun facts and more. I hope you find this listing informative and helpful!
Description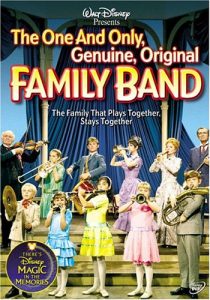 "The One and Only, Genuine, Original Family Band" is a musical comedy film produced by Walt Disney Productions. Released in 1968, it is loosely based on the book "The Family Band" by Laura Bower Van Nuys. The movie is set in 1888 and follows the Bower family, who are a musical family living in Missouri.
The Bower family is divided politically, with some members supporting the Democrats and others the Republicans. Despite their political differences, they come together as a musical band and perform in various events. The film's plot revolves around the upcoming 1888 presidential election between Benjamin Harrison and Grover Cleveland. The family band becomes involved in the election campaign when a political rally in their town is in need of a musical group to perform.
The film is known for its catchy and entertaining musical numbers, including "The One and Only, Genuine, Original Family Band," "Ten Feet Off the Ground," and "Dakota." The cast features popular actors and actresses of the time, such as Walter Brennan, Buddy Ebsen, and Lesley Ann Warren. Legendary Disney composer Richard M. Sherman composed the music for the film.
"The One and Only, Genuine, Original Family Band" received mixed reviews from critics upon its release and was not a major box office success. However, it has gained a cult following over the years and is appreciated for its nostalgic charm and family-friendly entertainment.
The film's setting in the late 19th century provides a unique backdrop for the story, showcasing the political and social landscape of that time. The Bower family's unity despite their political differences serves as a heartwarming message of coming together despite disagreements.
While not as well-known as some of Disney's other musical films, "The One and Only, Genuine, Original Family Band" holds a special place in the studio's history as one of their early live-action musicals. It remains a pleasant and enjoyable watch for those who appreciate classic Disney musicals and family-oriented entertainment.
---
Cast:
Walter Brennan: Renssaeler Bower
Buddy Ebsen: Calvin Bower
John Davidson: Joe Carder
Lesley Ann Warren: Alice Bower
Janet Blair: Katie Bower
Kurt Russell: Sidney Bower
Steve Harmon: Ernie Stubbins
Richard Deacon: Charlie Wrenn
Wally Cox: Wampler
Debbie Smith: Lulu Bower
Bobby Riha: Mayo Bower
Smith Wordes: Nettie Bower
Heidi Rook: Rose Bower
Jon Walmsley: Quinn Bower
Pamelyn Ferdin: Laura Bower
John Craig: Frank
William Woodson: Henry White
Goldie Hawn: Giggly Girl
Jonathan Kidd: Telegrapher
---
Crew:
Director: Michael O'Herlihy
Producer: Bill Anderson
Music: Richard M. Sherman and Robert B. Sherman
---
Additional Details
---
The One And Only Genuine Original Family Band  Trailer:
---