Here is everything you need to know about the amazing Hollywood Pictures movie The Puppet Masters including casting, reviews, fun facts and more. I hope you find this listing informative and helpful!
The Puppet Masters Description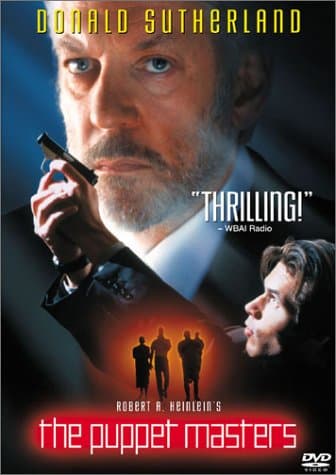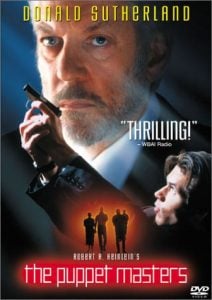 Donald Sutherland leads a team of top-level government agents who make a chilling discovery: extraterrestrial beings have landed and are quickly taking control of the residents of a small Midwestern town — manipulating their bodies and minds like puppets! Faced with an escalating crisis as the creatures multiply and spread, the team must somehow eliminate the seemingly unstoppable aliens.
---
The Puppet Masters Cast:
Donald Sutherland: Andrew Nivens
Eric Thal: Sam Nivens
Julie Warner: Mary Sefton
Keith David: Alex Holland
Will Patton: Dr. Graves
Richard Belzer: Jarvis
Tom Mason: President Douglas
Yaphet Kotto: Ressler
Sam Anderson: Culbertson
J. Patrick McCormack: Gidding
Marshall Bell: General Morgan
Nicholas Cascone: Greenberg
Bruce Jarchow: Barnes
Benjamin Mouton: Higgins
David Pasquesi: Vargas
Andrew Robinson: Hawthorne
Benj Thall: Jeff
William Wellman, Jr.: Doctor
Dale Dye: Brande
John C. Cooke: Lt. Abbey
Michael Shamus Wiles: Capt. Earley
---
The Puppet Masters Crew:
Director: Stuart Orme
Producer: Ralph Winter
Screenplay: Ted Elliott, Terry Rossio and David Goyer
---
The Puppet Masters Details
The Puppet Masters Trailer:
---