Here is everything you need to know about the amazing Hollywood Pictures movie The Rock including casting, reviews, fun facts and more. I hope you find this listing informative and helpful!
The Rock Description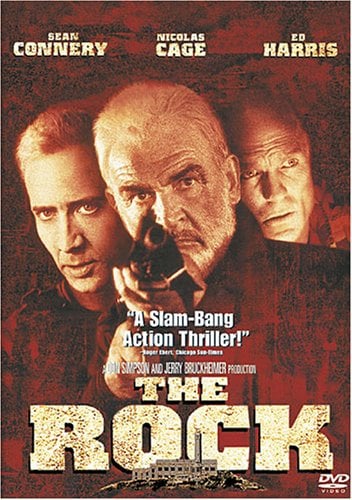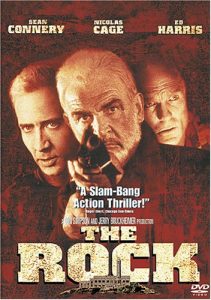 Hollywood superstar Sean Connery (THE HUNT FOR RED OCTOBER) joins Academy Award(R)-winner Nicolas Cage (1995 Best Actor — LEAVING LAS VEGAS) in the action-packed thriller of the year, THE ROCK! All of San Francisco is taken hostage when a vengeful general (Ed Harris — APOLLO 13) seizes control of Alcatraz Island, threatening to launch missiles loaded with deadly poison gas! With time running out, only a young FBI chemical weapons expert (Cage) and a notorious federal prisoner (Connery) have the skills to penetrate the island fortress and defuse the lethal situation! Edge-of-your-seat suspense and unstoppable action explode off the screen in this must-see motion picture event!
---
The Rock Cast:
Sean Connery: Captain John Patrick Mason
Nicolas Cage: FBI Special Agent Dr. Stanley Goodspeed
Ed Harris: Brigadier General Francis X. "Frank" Hummel
John Spencer: FBI Director James Womack
David Morse: Major Tom Baxter
William Forsythe: FBI Special Agent-in-Charge Ernest Paxton
Michael Biehn: Commander Charles Anderson
Vanessa Marcil: Carla Pestalozzi
John C. McGinley: Captain Hendrix
Gregory Sporleder: Captain Frye
Tony Todd: Captain Darrow
Bokeem Woodbine: Gunnery Sergeant Crisp
Greg Collins: Private Gamble
Brendan Kelly: Private Cox
Steve Harris: Private McCoy
Jim Maniaci: Private Scarpetti
Stuart Wilson: General Al Kramer
Danny Nucci: Lieutenant Shepard
Claire Forlani: Jade Angelou
Stanley Anderson: the President
Xander Berkeley: Lonner
Philip Baker Hall: Chief Justice
Anthony Clark: Paul
Sam Whipple: Larry Henderson
---
The Rock Crew:
Director: Michael Bay
Producers: Don Simpson and Jerry Bruckheimer
Story: David Weisberg, Douglas S. Cook and Mark Rosner
Music: Nick Glennie-Smith and Hans Zimmer
---
The Rock Details
Movie Studio: Hollywood Pictures
Year Released: 1996
Type of Movie: Live Action
Box Office: $335.1 million
Awards: Nominated Academy Award
The Rock Trailer:
---