Here is everything you need to know about the amazing Disney movie The Swap including casting, reviews, fun facts and more. I hope you find this listing informative and helpful!
The Swap Description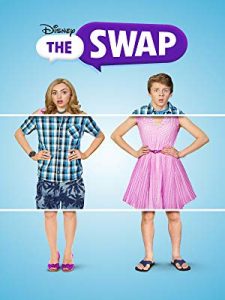 "The Swap" is a Disney Channel Original Movie released in 2016. It is a comedy film directed by Jay Karas and based on the young adult novel of the same name by Megan Shull.
The story follows two teenagers, Ellie O'Brien (played by Peyton List) and Jack Malloy (played by Jacob Bertrand), who lead very different lives. Ellie is a competitive and ambitious soccer player, while Jack is a laid-back and carefree skateboarder. After a strange encounter with a mysterious magic app on their phones, their lives are turned upside down when they wake up in each other's bodies.
As they try to navigate their new lives, Ellie and Jack struggle to adapt to each other's routines, friendships, and challenges. They must learn to understand and appreciate each other's perspectives to find a way to reverse the swap and return to their original bodies.
"The Swap" explores themes of empathy, understanding, and the importance of stepping into someone else's shoes to gain a new perspective. It is a lighthearted and entertaining film that showcases the value of friendship and the growth that can come from experiencing life from a different point of view.
The movie received positive reviews for its engaging storyline, strong performances from the lead actors, and its positive messages about empathy and acceptance. It resonated with Disney Channel's target audience and became a popular choice among young viewers.
Overall, "The Swap" is a fun and heartwarming Disney Channel movie that delivers an important message about understanding and appreciating others, making it an enjoyable watch for audiences of all ages.
---
The Swap Cast:
Peyton List: Ellie O'Brien
Jacob Bertrand: Jack Malloy
Darrin Rose: Coach Malloy
Claire Rankin: Summer
Callan Potter: Gunner
Jesse Bostick: Stryker
Eliana Jones: Aspen Bishop
Kiana Madeira: Sassy Gaines
Kolton Stewart: Owen
James Godfrey: Porter Gibbs
Devyn Nekoda: Mackenzie Wick
Naomi Snieckus: Coach Carol
Linda Kash: Nurse Helen
Naya Liviah: Claire
Michael Fessaha: Ryan
Marcia Johnson: Dr. Baker
Valerie Descheneaux: Stylist
Danny Smith: Clerk
Mark Hickox: Badminton Coach
---
The Swap Details
The Swap Trailer:
---