Here is everything you need to know about the amazing Disney movie The Ugly Daschund including casting, reviews, fun facts and more. I hope you find this listing informative and helpful!
The Ugly Daschund Description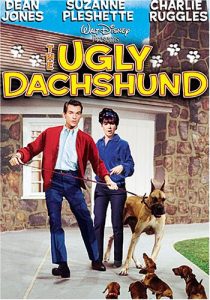 "The Ugly Dachshund" is a live-action Disney comedy film released in 1966. Directed by Norman Tokar, the movie tells the story of Mark and Fran Garrison, a couple who are dachshund dog enthusiasts. When Mark's Great Dane accidentally mates with a dachshund, they end up with a litter of puppies, including one that stands out as much larger than the others.
The adorable yet misfit Dachshund named Brutus creates hilarious chaos as he struggles to fit in with his smaller siblings and the Garrisons' other dachshund dogs. The film explores themes of identity, acceptance, and family dynamics through the lovable antics of the canine characters.
Filled with heartwarming moments and delightful comedy, "The Ugly Dachshund" is a family-friendly film that appeals to audiences of all ages. The movie highlights the bond between humans and their pets and teaches valuable lessons about embracing uniqueness and appreciating the beauty in differences.
Dean Jones and Suzanne Pleshette lead the cast with their charming performances, and the adorable dogs steal the show with their endearing expressions and behaviors.
As one of Disney's classic live-action comedies, "The Ugly Dachshund" continues to bring joy and laughter to viewers, making it a beloved and timeless addition to the studio's collection of heartwarming family films.
---
The Ugly Daschund Crew:
Director: Norman Tokar
Producer: Walt Disney and Winston Hibler
Music: George Bruns
---
The Ugly Daschund Details
The Ugly Daschund Trailer:
---