Here is everything you need to know about the amazing Disney movie Tiger Cruise including casting, reviews, fun facts and more. I hope you find this listing informative and helpful!
Tiger Cruise Description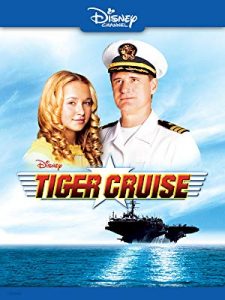 "Tiger Cruise" is a Disney Channel Original Movie that aired in 2004. The film stars Hayden Panettiere as Maddie Dolan, Bill Pullman as Commander Gary Dolan, and Bianca Collins as Tina.
The story revolves around Maddie Dolan, a teenager whose father, Commander Gary Dolan, serves in the U.S. Navy. Maddie is excited about her father's return after being deployed for several months. She plans to reunite with him on a special event known as a "Tiger Cruise," where family members are invited to join the crew on a Navy ship for the last few days of their deployment.
On the ship, Maddie befriends Tina, another teenager on the cruise, and they form a close bond. As they experience life on the ship and interact with the crew, Maddie begins to see her father's role in the Navy from a different perspective. She learns about the challenges and sacrifices that military families face and gains a deeper understanding of her father's dedication to his duty.
Amidst the emotional journey of Maddie and her father, unexpected events unfold when the ship gets involved in a real-life crisis. The crew faces a potential threat, and everyone must work together to handle the situation and ensure the safety of all on board.
"Tiger Cruise" is a heartwarming and poignant film that explores the themes of family, patriotism, and the importance of understanding the realities of military service. It provides a glimpse into the lives of military families and honors the courage and dedication of the men and women who serve in the armed forces. With its touching story and messages, the movie resonates with viewers of all ages and emphasizes the significance of love and support in times of challenge and adversity.
---
Tiger Cruise Cast:
Hayden Panettiere: Madeline "Maddie" Dolan
Bill Pullman: Commander Gary Dolan
Bianca Collins: Tina
Nathaniel Lee, Jr.: Anthony
Mercedes Colon: Grace
Mehcad Brooks: Kenny
Jansen Panettiere: Joey
Lisa Dean Ryan: Diane
Troy Evans: Chuck Horner
Ty O'Neal: Danny Horner
Chris Ellis: Captain Anderson
Gary Weeks: Lieutenant Tom Hillman
Barbara Niven: Kate Dolan
Jennette McCurdy: Kiley Dolan
E. Matthew Buckley: Pilot Brown
Mark Christopher Lawrence: Pop
---
Tiger Cruise Crew:
Director: Duwayne Dunham
Producer: Bill Borden and Barry Rosenbush
---
Tiger Cruise Details
Tiger Cruise Trailer:
---