Here is everything you need to know about the amazing Hollywood Pictures movie Tombstone including casting, reviews, fun facts and more. I hope you find this listing informative and helpful!
Tombstone Description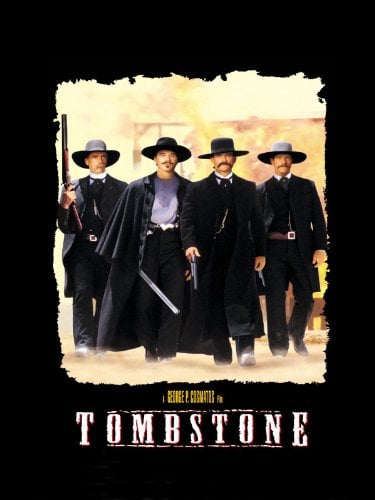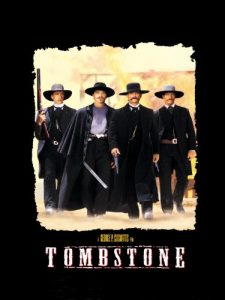 A sizzling, star-studded cast brings to life the legendary battle to deliver justice to TOMBSTONE! Kurt Russell turns in a gripping performance as U.S. Marshall Wyatt Earp and Val Kilmer ignites the screen as the outrageous Doc Holliday. Together, they team up to bring law to the lawless in a notorious showdown with the ruthless outlaws at the O.K. Corral! Get ready for an explosive, action-packed
adventure the Wild West would never forget!
---
Tombstone Fun Facts
Val Kilmer's performance as Doc Holliday is widely regarded as one of his best roles. He received critical acclaim and was praised for his portrayal of the consumptive and quick-witted gunslinger.
The movie faced production issues and behind-the-scenes conflicts. Kurt Russell reportedly took over directing duties from George P. Cosmatos, though Cosmatos retained the official director credit.
The set for Tombstone was built in the town of Mescal, Arizona. It was carefully designed to replicate the historic look and feel of the real Tombstone during the late 1800s.
"Tombstone" features several notable Western firearms, including the Colt Single Action Army revolver and the Winchester Model 1873 lever-action rifle, which are iconic weapons of the Old West.
The film includes many memorable quotes, such as "I'm your huckleberry" and "You tell 'em I'm coming, and hell's coming with me!" These lines have become popular catchphrases among Western movie fans.
The movie received mixed reviews upon release, but it has since gained a dedicated fan following and is considered a cult classic among Western enthusiasts.
Many of the characters and events depicted in the film are based on real historical figures and occurrences, although some artistic liberties were taken for dramatic effect.
"Tombstone" is known for its thrilling and well-choreographed action sequences, particularly the climactic Gunfight at the O.K. Corral. The intense shootout remains one of the most iconic moments in Western film history.
---
Tombstone Cast:
Kurt Russell: Wyatt Earp
Val Kilmer: Doc Holliday
Sam Elliott: Virgil Earp
Bill Paxton: Morgan Earp
Powers Boothe: "Curly Bill" Brocius
Michael Biehn: Johnny Ringo
Charlton Heston: Henry Hooker
Jason Priestley: Billy Breakenridge
Jon Tenney: Sheriff Johnny Behan
Stephen Lang: Ike Clanton
Thomas Haden Church: Billy Clanton
Dana Delany: Josephine Marcus
Paula Malcomson: Allie Earp
Lisa Collins: Louisa Earp
John Philbin: Tom McLaury
Dana Wheeler-Nicholson: Mattie Blaylock
Joanna Pacuła: Big Nose Kate
Michael Rooker: Sherman McMasters
Harry Carey, Jr.: Marshal Fred White
Billy Bob Thornton: Johnny Tyler
Tomas Arana: Frank Stilwell
Paul Ben-Victor: "Indian Charlie" Cruz
Robert John Burke: Frank McLaury
Billy Zane: Mr. Fabian
John Corbett: Johnny Barnes
Buck Taylor: "Turkey Creek" Jack Johnson
Terry O'Quinn: Mayor John Clum
Peter Sherayko: John "Texas Jack" Vermillion
Wyatt Earp III: Billy Claiborne
Robert Mitchum: Narrator
---
Tombstone Crew:
Director: George Cosmatos
Producers: James Jacks, Sean Daniel and Bob Misiorowski
Writer: Kevin Jarre
---
Tombstone Details
Tombstone Trailer:
---