Here is everything you need to know about the amazing Disney movie Tonka including casting, reviews, fun facts and more. I hope you find this listing informative and helpful!
Description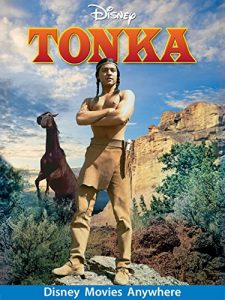 "Tonka" is a Disney film released in 1958. The movie is based on the real-life story of Comanche, a famous American military horse that survived the Battle of Little Bighorn in 1876. In the film, the horse is renamed Tonka.
The story revolves around a young Sioux boy named White Bull (played by Sal Mineo), who dreams of owning a wild horse and becoming a great warrior like his father. One day, he manages to capture and tame a wild horse he names Tonka. The two form a deep bond, and White Bull believes that Tonka will help him become a warrior.
As White Bull and Tonka grow closer, they face several challenges, including conflicts with neighboring tribes and encounters with hostile settlers. Despite the obstacles, White Bull and Tonka's friendship remains unbreakable. The film showcases themes of friendship, loyalty, and the importance of understanding between different cultures.
"Tonka" received positive reviews for its depiction of Native American culture and its heartwarming story. It also highlights the historical significance of the Battle of Little Bighorn and the impact it had on both Native American tribes and the U.S. Army.
The film's portrayal of the bond between White Bull and Tonka has made it a favorite among audiences who appreciate stories about the human-animal connection. While "Tonka" may not be as well-known as some other Disney classics, it remains a beloved film for those who have seen and appreciated its heartfelt narrative.
---
Cast:
Sal Mineo: White Bull
Philip Carey: Captain Myles Keogh
Jerome Courtland: Lieutenant Henry Nowlan
Rafael Campos: Strong Bear
H.M. Wynant: Yellow Bear
Joy Page: Prairie Flower
Britt Lomond: General George Custer
Herbert Rudley: Captain Frederick Benteen
Sydney Smith: General Alfred Terry
John War Eagle: Chief Sitting Bull
Gregg Martell: Corporal Korn
Slim Pickens: Ace
Robert "Buzz" Henry: Lieutenant Crittenden
Eddie Little Sky: Spotted Tail
---
Crew:
Director: Lewis Foster
Producer: James Pratt
Writer: David Appel, Lewis Foster and Lillie Hayward
Music: Oliver Wallace
---
Additional Details
---
Tonka Trailer:
---