Here is everything you need to know about the amazing Touchstone Pictures movie Turner & Hooch including casting, reviews, fun facts and more. I hope you find this listing informative and helpful!
Description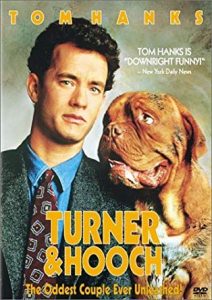 "Turner & Hooch" is a buddy cop comedy film released by Touchstone Pictures in 1989. The film was directed by Roger Spottiswoode and stars Tom Hanks in the lead role as Detective Scott Turner. The story revolves around the unlikely partnership between Turner and a large, messy, and slobbery Dogue de Bordeaux named Hooch.
Detective Scott Turner is a meticulous and organized police investigator who lives a disciplined and orderly life. His world is turned upside down when he becomes the reluctant owner of Hooch, a dog that was left as the only witness to a murder case. Initially, Turner is frustrated with Hooch's chaotic and destructive behavior, which creates hilarious situations and comic relief throughout the film.
As the investigation into the murder case progresses, Turner starts to develop a bond with Hooch, despite their stark differences in personality. Hooch proves to be an invaluable asset to the investigation, using his keen sense of smell and intuition to help Turner solve the case and bring the criminals to justice.
The film combines elements of action, comedy, and heartfelt moments as Turner learns to embrace the chaos and spontaneity that Hooch brings into his life. The unlikely duo forms a heartwarming and entertaining partnership, highlighting the power of love and companionship between humans and animals.
Tom Hanks delivers a charming and comedic performance, and his chemistry with the lovable canine steals the show. The film also features a strong supporting cast, including Mare Winningham, Craig T. Nelson, and Reginald VelJohnson.
"Turner & Hooch" was well-received by audiences and became a box office success. It remains a beloved family-friendly film that celebrates the unbreakable bond between a man and his dog. The film's heartwarming story and humorous moments have made it a classic in the buddy cop genre and have solidified Hooch as one of the most iconic dogs in cinematic history.
---
Turner & Hooch Fun Facts
The film was inspired by a combination of a true story and an idea by producer Raymond Wagner, who owned a Dogue de Bordeaux and thought it would make an interesting premise for a film.
Beasley, the dog who portrayed Hooch, was a male Dogue de Bordeaux who had no prior acting experience. He was selected for the role after an extensive search.
To prepare for his role, Tom Hanks spent several weeks working with a real police dog handler, learning techniques and understanding the bond between a dog and its handler.
The film features a memorable scene where Hooch destroys Turner's home, leaving it in a state of chaos. The destruction required multiple takes and a team of crew members to create the mess.
Hooch's drooling became one of the character's defining traits in the film. To enhance the effect, the filmmakers used a combination of real dog drool and a substance called K-Y Jelly.
"Turner & Hooch" was a box office success, grossing over $71 million worldwide against a budget of $13 million.
The movie's screenplay underwent several rewrites, with input from various writers, including Daniel Petrie Jr., Jim Cash, and Jack Epps Jr.
The on-screen chemistry between Tom Hanks and Beasley the Dog was widely praised, contributing to the film's charm and humor.
"Turner & Hooch" has become a beloved classic among dog lovers and fans of lighthearted buddy comedies, showcasing the enduring appeal of the bond between humans and their canine companions.
---
Cast:
Tom Hanks: Detective Scott Turner
Beasley the Dog: Hooch
Mare Winningham: Dr. Emily Carson
Craig T. Nelson: Chief Howard Hyde
Reginald VelJohnson: Det. David Sutton
Scott Paulin: Zack Gregory
J. C. Quinn: Walter Boyett
John McIntire: Amos Reed
David Knell: Ernie
Ebbe Roe Smith: Harley McCabe
Kevin Scannell: Jeff Foster
Joel Bailey: Ferraday
Mary McCusker: Katie
Ernie Lively: Motel Clerk
Clyde Kusatsu: Kevin Williams
Elaine Renee Bush: Store Clerk
Eda Reiss Merin: Mrs. Remington
---
Crew:
Director: Roger Spottiswoode
Producer: Raymond Wagner
---
Additional Details
---
Turner & Hooch Trailer:
---