Here is everything you need to know about the amazing Disney movie Underdog including casting, reviews, fun facts and more. I hope you find this listing informative and helpful!
Underdog Description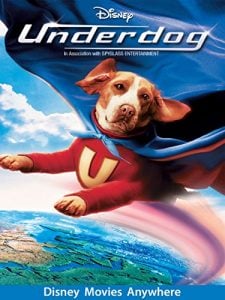 "Underdog" is a 2007 American comedy film produced by Walt Disney Pictures. The movie is a live-action adaptation of the 1960s animated TV series of the same name. It was directed by Frederik Du Chau and features a mix of live-action and computer-generated imagery (CGI) to bring the titular character to life.
The story revolves around a beagle named Shoeshine who is exposed to a substance known as the "Super Energy Pill" created by mad scientist Dr. Simon Barsinister (played by Peter Dinklage). The pill gives Shoeshine superpowers, and he becomes the superhero known as "Underdog." With his newfound abilities, Underdog sets out to protect the city of Capitol City from evil and crime.
Underdog soon becomes a beloved figure in the city, but he also faces challenges as he tries to balance his superhero duties with his desire to lead a normal life as a regular dog. He befriends a young boy named Jack (played by Alex Neuberger) and develops a bond with him and his family.
The film is a fun and light-hearted adventure that combines action, humor, and heartwarming moments. It pays homage to the original animated series while also introducing the story to a new generation of audiences.
"Underdog" received mixed reviews from critics but performed well at the box office, especially among families and younger audiences. While not considered a critical success, it remains a nostalgic and entertaining movie for those who grew up watching the classic animated TV show.
---
Underdog Cast:
Peter Dinklage: Dr. Simon Barsinister
Patrick Warburton: Cad Lackey
Jim Belushi: Dan Unger
Alex Neuberger: Jack Unger
Taylor Momsen: Molly
John Slattery: the Mayor
Samantha Bee: Principal
Frank L. Ridley: Police Sergeant
Jason Lee: Shoeshine / Underdog
Amy Adams: Sweet Polly Purebred
Brad Garrett: Riff Raff
John DiMaggio: Bulldog / Supershep
Phil Morris: Maim ("Supershep #1")
Michael Massee: Kill ("Supershep #2")
Cam Clarke: Attack ("Supershep #3") / Little Brown Dog
Jess Harnell: Astronaut
---
Underdog Crew:
Director: Frederick Du Chau
Producers: Gary Barbar, Roger Birnbaum, Jonathan Glickman and Jay Polstein
Writers: Joe Piscatella, Adam Rifkin and Craig Williams
---
Underdog Details
Underdog Trailer:
---