Here is everything you need to know about the amazing Disney movie White Fang 2: Myth Of The White Wolf  including casting, reviews, fun facts and more. I hope you find this listing informative and helpful!
White Fang 2: Myth Of The White Wolf  Description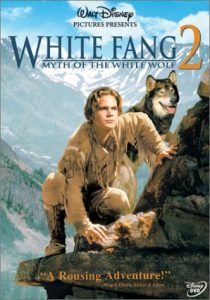 "White Fang 2: Myth of the White Wolf" is a 1994 adventure film and the sequel to the 1991 movie "White Fang." It is loosely based on the novel "White Fang" by Jack London. The film was directed by Ken Olin and produced by Walt Disney Pictures.
The story follows the journey of White Fang, a half-dog, half-wolf hybrid, as he befriends a Native American named Henry Casey (played by Scott Bairstow). Together, they embark on an exciting adventure to stop a ruthless villain named Mr. Heath (played by Alfred Molina) from exploiting a sacred white wolf and its pack for personal gain.
Set in the beautiful wilderness of Alaska, the film explores themes of friendship, loyalty, and respect for nature. White Fang's connection with both humans and the wild wolves highlights the bond between humans and animals and the importance of preserving the natural world.
"White Fang 2: Myth of the White Wolf" received mixed reviews from critics, with some praising its stunning cinematography and action sequences, while others felt that it lacked the emotional depth of its predecessor. Nevertheless, the film remains a family-friendly adventure with a heartwarming message about the harmony between man and nature.
---
White Fang 2: Myth Of The White Wolf  Cast:
Scott Bairstow: Henry Casey
Charmaine Craig: Lily Joseph
Jed the Wolfdog: White Fang
Al Harrington: Moses Joseph
Anthony Ruivivar: Peter Joseph
Victoria Racimo: Katrin Joseph
Alfred Molina: Reverend Leland Drury
Geoffrey Lewis: Mr. Heath
Matthew Cowles: Lloyd Halverson
Ethan Hawke: Jack Conroy
Paul Coeur: Adam John Hale
Woodrow W. Morrison: Bad Dog
Reynold Russ: Leon
Nathan Young: One-Ear
Charles Natkong Sr.: Sshaga-Holy Man
Edward Davis: Sshaga-Apprentice
Bryon Chief-Moon: Matthew
Tom Heaton: Miner 1
Trace Yeomans: Chief's Mother
Thomas Kitchkeesic: Native Boy
---
White Fang 2: Myth Of The White Wolf  Crew:
Director: Ken Olin
Producer: Preston Fischer
Music: John Debney
---
White Fang 2: Myth Of The White Wolf  Details
White Fang 2: Myth Of The White Wolf  Trailer:
---