Here is everything you need to know about the amazing Disney series The 100 Lives of Black Jack Savage including casting, episodes, fun facts and more. I hope you find this listing informative and helpful!
The 100 Lives of Black Jack Savage Description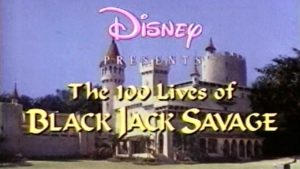 "The 100 Lives of Black Jack Savage" is a television series that aired on NBC in 1991. The show was produced by Stephen J. Cannell, who was known for creating a number of popular television shows in the 1980s and 1990s.
The premise of the show follows a former Caribbean pirate named Black Jack Savage, who is released from prison and tasked with completing 100 good deeds in order to redeem himself. Along the way, he teams up with a wealthy businessman named Renny Sinclair to help people in need and battle evil forces.
The show featured a mix of action, adventure, and comedy, with a touch of the supernatural. It starred Steven Williams as Black Jack Savage and Thomas Ian Griffith as Renny Sinclair, and also featured a supporting cast that included Roma Downey and Bert Rosario.
Despite its intriguing premise and talented cast, "The 100 Lives of Black Jack Savage" only lasted for one season, with a total of eight episodes airing before the show was canceled. Nevertheless, the show has developed a cult following over the years, and its mix of swashbuckling adventure and moral redemption continues to resonate with audiences.
---
The 100 Lives of Black Jack Savage Cast:
Stoney Jackson: Black Jack Savage (pilot episode)
Steven Williams: Black Jack Savage (series)
Roma Downey: Danielle
Daniel Hugh Kelly: Barry Tarberry
Bert Rosario: Abel Vasquez
Steve Hytner: Logan "FX" Murphy
---
The 100 Lives of Black Jack Savage Crew:
Creators: James Wong, Glen Morgan and Stephen J. Cannell
Executive Producer: Stephen J. Cannell
---
The 100 Lives of Black Jack Savage Details:
The 100 Lives of Black Jack Savage Trailer:
---