Here is everything you need to know about the amazing Disney series The Torkelsons including casting, episodes, fun facts and more. I hope you find this listing informative and helpful!
The Torkelsons Description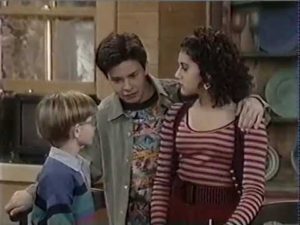 "The Torkelsons" was a family sitcom that aired on NBC from 1991 to 1993. The show followed the daily lives of the Torkelson family, a quirky and endearing family from Pyramid Corners, Oklahoma.
The series revolved around the adventures of the Torkelson family, especially their widowed mother, Millicent Torkelson (played by Connie Ray). Millicent had five children, each with their unique personalities and challenges. The show dealt with typical family issues such as sibling rivalry, teenage crushes, and the ups and downs of growing up.
In addition to Connie Ray, the show starred a talented cast of actors, including Olivia Burnette as Dorothy Jane, the middle child and narrator of the show, and Aaron Michael Metchik as her crush, Riley Roberts.
"The Torkelsons" was praised for its strong cast and the heartwarming, comedic stories it told. The show was eventually retooled and retitled "Almost Home" for its second season, which focused on the Torkelsons' move to Seattle, Washington, where Millicent had taken a job as a nanny.
---
The Torkelsons Cast:
Connie Ray: Millicent Torkelson
Olivia Burnette: Dorothy Jane Torkelson
Elizabeth Poyer (pilot) & Anna Slotky: Ruth Ann Torkelson
Benj Thall (pilot) & Aaron Michael Metchik: Steven Floyd Torkelson
Lee Norris: Chuckie Lee Torkelson
Rachel Duncan: Mary Sue Torkelson
Ernie Lively (pilot): Jacob Presley
William Schallert: Wesley Hodges
Brittany Murphy: Molly Morgan
Jason Marsden: Gregory Morgan
Perry King: Brian Morgan
---
The Torkelsons Crew:
Creator: Lynn Montgomery
Executive Producers: Michael Jacobs and Charlotte Brown
---
The Torkelsons Details:
The Torkelsons Trailer:
---