Here is everything you need to know about the amazing Disney series Walt Disney's Disneyland including casting, episodes, fun facts and more. I hope you find this listing informative and helpful!
Walt Disney's Disneyland Description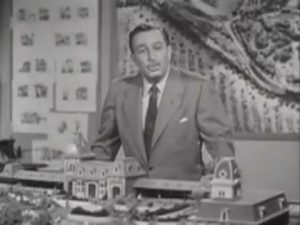 "Walt Disney's Disneyland" is a television series that first premiered on ABC on October 27, 1954, and it was the first regular television series to feature Walt Disney. The show was an anthology series that showcased a variety of family-friendly programming, including animated shorts, live-action dramas, and documentaries.
The 1954 version of "Walt Disney's Disneyland" was notable for featuring the construction and opening of Disneyland, the first Disney theme park. The show's first season was titled "Disneyland" and focused on the creation and development of the park. The series included a mix of live-action and animated segments, as well as interviews with the designers, engineers, and construction workers involved in building the park.
In addition to its coverage of Disneyland, the show also featured a variety of other content. For example, it included popular Disney cartoons, such as "Mickey Mouse" and "Donald Duck," as well as live-action dramas like "Davy Crockett" and "The Adventures of Spin and Marty." The show also aired a number of documentaries, including "The Plausible Impossible," which explained the scientific concepts behind Disney's animated films.
Overall, "Walt Disney's Disneyland" was a groundbreaking television program that helped to introduce Disney's unique brand of family-friendly entertainment to a wider audience. The success of the show helped pave the way for Disney's subsequent ventures into television, including "The Wonderful World of Color" and "The Mickey Mouse Club."
---
Walt Disney's Disneyland Cast:
Narrator: Dick Wesson
Host: Walt Disney
---
Walt Disney's Disneyland Crew:
---
Walt Disney's Disneyland Details:
Walt Disney's Disneyland Trailer:
---