Jar Jar Binks
Last Updated on: May 3rd, 2023
Who is Jar Jar Binks?
Jar Jar Binks is a fictional character in the Star Wars franchise, first introduced in the 1999 film "Star Wars: Episode I – The Phantom Menace." He is a Gungan, a species of amphibious creatures native to the planet Naboo.
Jar Jar Binks is a clumsy, bumbling character who speaks in a unique dialect of broken English. He becomes an unlikely ally of the Jedi Knights Qui-Gon Jinn and Obi-Wan Kenobi, who save him from being executed by the Naboo. Jar Jar joins them on their mission to help Queen Amidala and the people of Naboo against the evil Trade Federation.
While some fans found Jar Jar Binks to be a charming and amusing character, others criticized him for being overly childish and annoying. Despite this, Jar Jar remains a significant part of Star Wars lore and has become an enduring symbol of the prequel trilogy.
The character was played by Ahmed Best.
The Collection:
Here is the Internet's largest collection of Jar Jar Binks related movies, TV shows, toys and other products. As always, new pieces are added to this
collection regularly.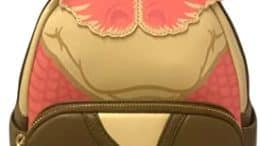 10.5″ X 9″ X 4.5″ Faux leather Officially licensed
---
---