Update 8/6/18: Black Panther has officially become the third movie to reach $700 million domestic (joining Avatar and Star Wars: The Force Awakens). The movie pretty much closes out its box office run at $1.346 billion global ($700 million domestic, $646.7 international).
Update 4/30/18: Black Panther is now officially the 9th biggest movie of all time based on global box office take. After this weekend's showings, its total now stands at $1.333 billion global, pushing it ahead of last Winter's Star Wars: The Last Jedi.
Update: 4/9/18: Black Panther is starting to reach some rarefied air as it continues to pass some of the biggest movies in history on the all-time box office sales list. It now sits as the 3rd highest grossing film domestically, passing Titanic on the list. (34th, adjusted for inflation), behind only Avatar ($760 million) and Star Wars: The Force Awakens ($937 million).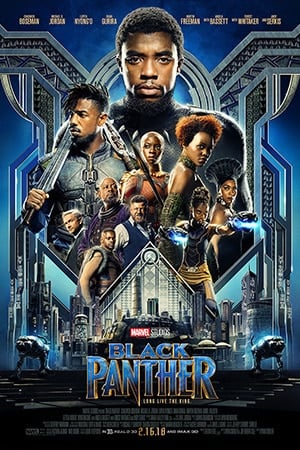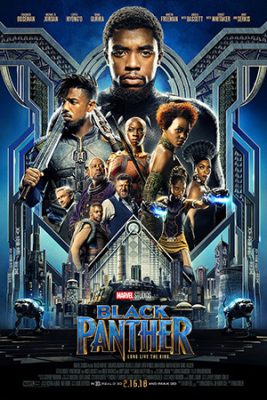 Update 4/3/18: Black Panther is now up to $652.5 million domestic and $1.279 billion global. These astronomical tallies now place the blockbuster at number 4 all time domestic (it just passed Jurassic World) and number 10 global (passing Frozen). What an amazing start to 2018 at the box office for Disney!
Update 3/25/18: Black Panther's 5-week run in the top spot at the box office might be over with Pacific Rim Uprising beating it out this weekend, but it did place a solid second with a $16.7 million domestic take pushing the film's domestic total to $630.9 million and global to $1.237 billion.
Update 3/24/18: According to the Hollywood Reporter, Black Panther has achieved some pretty amazing box office feats this week. The blockbuster is now the top-grossing superhero film ever in North America and number three all time globally. Black Panther is also now the 12th highest-grossing film of all time!
Update 3/20/18: Black Panther just keeps on chugging along as the movie topped the box office for the fifth straight week. The Disney/Marvel mega-hit now stands at $605 domestically and $1.1 billion globally.
Update 3/12/18: Black Panther has hit another milestone this past weekend in its amazing run at the box office. The Marvel blockbuster has officially crossed $1 billion globally. The movie is now the 7th highest-grossing film in the US and 21st most successful film globally of all time.
Update: 3/11/18: Black Panther held its own in its China debut this weekend, grossing $66.5 million in the country, placing it 5th among all superhero movies.
Update 3/5/18: Black Panther owned the box office for a third straight weekend and now sits at $897.7 million globally. Disney clearly has another billion dollar movie on their hands. Not a bad way for them to kick off 2018!
Update 2/25/18: Looks like Black Panther isn't suffering a week 2 hangover. The Hollywood Reporter is estimating that the Marvel mega-hit will gross $108 million at the box office this weekend, which places its sophomore performance second all-time behind Star Wars: The Force Awakens. In total, Black Panther has brought in $704 million globally in just 9 days!
Update 2/18/18: So, the pre-debut box office sales predictions appear to be way under what the Black Panther will do this weekend. The movie is currently on pace for a $218 million opening weekend. Through today (Sunday), the movie has already done an estimated $361 million globally. Amazing!
Update 2/12/18: Black Panther's US debut box office projection has been increased to an amazing $165 million, which would make it the biggest February open of all time, besting Deadpool's February 2016 total of $152 million.
Original Post: Following reports that the upcoming Marvel superhero movie Black Panther set ticket presale records, comes news that the movie is projecting to bring in big bucks at the box office in its North American debut next month.
According to The Hollywood Reporter, Black Panther is on track to gross $100 million – $120 million in its President's Day weekend debut. For a reference point, Marvel's Doctor Strange, another recent individual superhero film, opened to $85 million in 2016.
Black Panther opens February 16th in the US. Stay tuned for more coverage of its box office performance.