Alfredo Linguini (Ratatouille)
Last Updated on: May 25th, 2023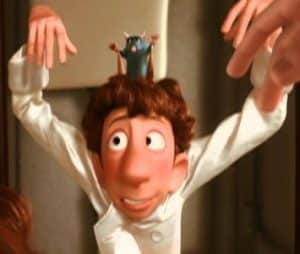 Who is Alfredo Linguini?
Alfredo Linguini is a fictional character from the 2007 Disney/Pixar animated film "Ratatouille." He is a young man who works as a garbage boy in a Parisian restaurant called Gusteau's. He is clumsy, and has no real talent in cooking, but he has a good heart and a strong sense of loyalty to the people around him. He befriends Remy, a rat who has a great passion for cooking and the two join forces to make their dream come true. Together they create a dish that becomes a sensation and Alfredo is promoted to head chef, while Remy remains his secret helper. The character is voiced by actor Lou Romano in the film.
The Collection:
Here is the Internet's largest collection of Alfredo Linguini related movies, TV shows, toys and other products. As always, new pieces are added to this collection regularly.
Movie Appearances
---
Park Appearances
---
---