Here is everything you need to know about the amazing Remy's Ratatouille Adventure Ride at Walt Disney World's Epcot including history, reviews, fun facts, photos and more. I hope you find this listing informative and helpful!
Remy's Ratatouille Adventure | Disney World Description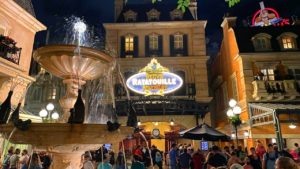 Remy's Ratatouille Adventure is a 3D trackless dark ride located in the France pavilion at EPCOT in Walt Disney World Resort in Florida. The ride is based on the Pixar film "Ratatouille" and takes guests on an immersive journey through the world of the film.
During the ride, guests board rat-shaped vehicles and are shrunk down to the size of a rat, just like the film's protagonist, Remy. The ride then takes guests through a series of scenes from the film, including a bustling kitchen, a sewer system, and a chase through the streets of Paris.
The ride features cutting-edge technology, including trackless vehicles that move freely through the environment, 3D visuals, and special effects such as water and scent effects. The ride is designed to be immersive, with guests feeling like they are actually part of the action.
---
Remy's Ratatouille Adventure | Disney World Details