Auguste Gusteau (Ratatouille)
Last Updated on: May 25th, 2023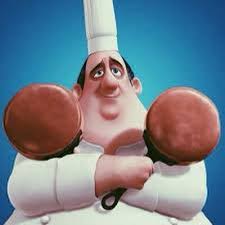 Who is Auguste Gusteau?
Auguste Gusteau is a fictional character from the 2007 Disney/Pixar animated film "Ratatouille." He is a renowned chef who owns the restaurant Gusteau's in Paris, France, which is considered one of the best restaurants in the city. He is known for his passion for cooking and his ability to make anyone feel welcome in his restaurant. He is also the inspiration and mentor of the protagonist of the film, Remy, a rat who dreams of becoming a chef. Gusteau's ghost appears in the film to guide Remy and make his dream come true. The character is voiced by actor Brad Garrett (Everybody Loves Raymond) in the film.
The Collection:
Here is the Internet's largest collection of Auguste Gusteau related movies, TV shows, toys and other products. As always, new pieces are added to this collection regularly.
Movie Appearances
---
Park Appearances
---
---