John (Carousel of Progress)
Last Updated on: February 20th, 2023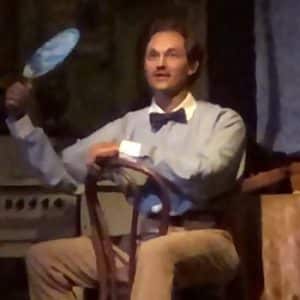 Who is John?
John is the main protagonist of the "Carousel of Progress" attraction at the Magic Kingdom Park in the Walt Disney World Resort. The attraction, which first opened in the 1964 New York World's Fair, is a rotating theater that tells the story of an American family, the "Progress Family" and their experiences with technological advancements from the turn of the 20th century to the present day. John, is the patriarch of the Progress Family, and serves as the narrator of the attraction, guiding guests through the different scenes and eras. He is portrayed as an optimist and enthusiastic about the advancements in technology and how it improves the family's life.
He was originally voiced by actor Rex Allen (who is now the voice of the Grandfather) and is currently voiced by humorist Jean Shepherd.
The Collection:
Here is the Internet's largest collection of Carousel of Progress -related movies, TV shows, toys and other products. As always, new pieces are added to this collection regularly.
Song Appearances "The Best Time of Your Life" is a song from the Walt Disney World attraction "Walt Disney's Carousel of Progress". The attraction is a rotating…
---
---
Park Appearances
---
---
In the News
Carousel of Progress 'Future' Finale Scene Updated at Magic Kingdom, Now References 'Food Rocks,' EPCOT, and More, July 2, 2022
---