Pierre (Tiki Room)
Last Updated on: March 29th, 2023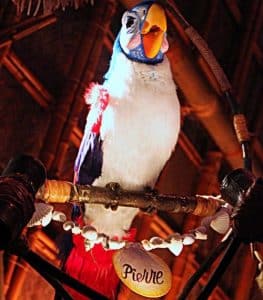 Who is Pierre?
Pierre is one of the animatronic birds featured in the Enchanted Tiki Room. The Enchanted Tiki Room is a classic Disney attraction that features a variety of animatronic birds, flowers, and tikis that come to life in a colorful and musical show.
Pierre, voiced by voice actor Ernie Newton, is known for his distinctive French accent and his comedic personality. He is one of the many animatronic birds that sing and perform during the show, adding to the tropical and whimsical atmosphere of the Tiki Room. Each of the animatronic birds in the Enchanted Tiki Room has its own unique personality and role in the musical performances.
The Collection:
Here is the Internet's largest collection of Pierre -related movies, TV shows, toys and other products. As always, new pieces are added to this collection regularly.
Song Appearances
"Let's All Sing Like the Birdies Sing" is a classic Disney song that was first featured in the 1963 Disneyland attraction "The Enchanted Tiki Room."…
---
---
Park Appearances
---
---
---
---