Here is everything you need to know about Walt Disney World's Magic Kingdom's Enchanted Tiki Room show including history, fun facts, photos and more. I hope you find this listing informative and helpful!
Enchanted Tiki Room | Disney World Description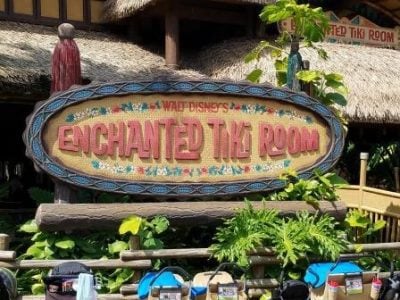 The Enchanted Tiki Room is a classic and iconic attraction located in Adventureland at Magic Kingdom park at Walt Disney World Resort in Florida. It was one of the first attractions to feature Audio-Animatronics technology and remains a beloved favorite among Disney fans.
The Enchanted Tiki Room takes guests on a musical journey to a tropical paradise filled with colorful birds, flowers, and tikis. The attraction's pre-show introduces the show's host, José, a wise-cracking macaw, along with his friends Michael, Pierre, and Fritz, who are also tropical birds.
Once inside the theater, guests are seated in a cool, dimly lit space adorned with tiki carvings and decorations. The show begins with the tikis and birds coming to life through the magic of Audio-Animatronics, delivering an entertaining and enchanting performance.
The main highlight of the Enchanted Tiki Room is a spectacular musical revue featuring a variety of songs, humorous banter between the birds, and charming animations. The show includes famous tunes like "The Tiki Tiki Tiki Room" and "Let's All Sing Like the Birdies Sing," creating a lively and joyful atmosphere.
Throughout the performance, the birds, flowers, and tikis sing, dance, and interact with each other, immersing guests in a whimsical and tropical celebration. The Enchanted Tiki Room's catchy songs and memorable characters have made it a classic Disney attraction that continues to delight guests of all ages.
Over the years, the Enchanted Tiki Room has undergone a few updates and changes, but its essence as a lively and entertaining tropical revue remains unchanged, making it a must-see attraction for anyone visiting the Magic Kingdom.
Voice Cast:
Thurl Ravenscroft-Fritz
Wally Boag-Jose
Fulton Burley-Michael
Jerry Orbach- Pierre
---
Enchanted Tiki Room | Disney World Fun Facts
Show was called The Enchanted Tiki Room (Under New Management) from 1998-2011 and it featured Iago from Aladdin and Zazu from The Lion King.
Number of singing birds in the Tiki room: 88 singing birds
Number of audio-animatronics in the show: 225 audio animatronics
The show was originally supposed to be a restaurant with a dinner show.
---
Enchanted Tiki Room | Disney World Details