Adorable Snowman's Frosted Treats (Disney California Adventure)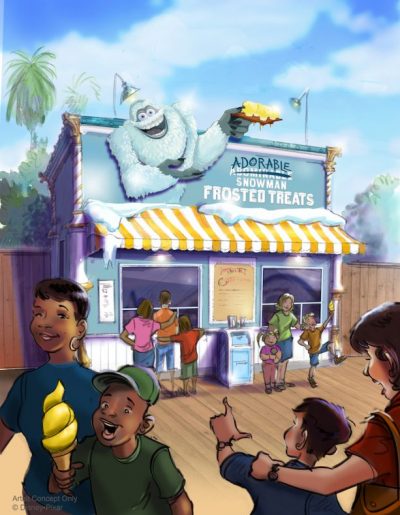 Adorable Snowman's Frosted Treats Description:
Opened in June 2018, Adorable Snowman's Frosted Treats is a food stand in Pixar Pier that will offer ice cream and other frozen treats.
Satisfy your sweet tooth with a mouthwatering menu of chilled thrills, including creamy soft-serve cups, classic cones and more!
Just past Knick's Knacks in Disney California Adventure Park, this cool quick-service counter offers frozen soft-serve treats in white chocolate-capped lemon, vanilla, chocolate or swirled to perfection. Perhaps the all-new Pixar Pier Frozen Parfait—a delectable blend of lemon soft-serve and blue raspberry slush—will tempt your taste buds. Thirsty? Add root beer, Sprite® or Coca-Cola® for a Pixar-licious float! A selection of soft drinks is also available.
---
Disney Park(s) in this Post:
Disney California Adventure Park
---
Related News:
---
Related Articles:
---