Autopia (Disneyland)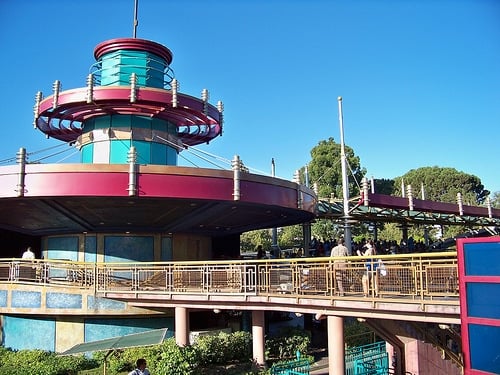 Autopia Description:
On your mark, get set, drive—release the throttle and wind your way around a track filled with fun on Autopia!
One Really Sweet Ride  
Feel the wind in your hair while cruising down one of 4 picturesque lanes—humorous billboards on the sidelines give drivers a wacky look at the world from the car's perspective. While twisting around the track, you'll pick up the pace under a small bridge and pass iconic attractions like the Matterhorn Bobsleds in the not-too-far-off distance. Go for your own personal best or compete against family members and friends. When the checkered flag comes down, coast back to the pit a champion!
Safety First 
Featuring a real-working gas pedal and steering wheel, each car seats 2 adults or 3 children and navigates curves as well as inclines just like the real thing. Need to brake? Simply ease off the accelerator to slow down. Vehicles are equipped with front and rear bumpers and an undercarriage guide rail to safeguard your trip—plus our professional pit crew is always available to give you a hand.
Photo by Castles, Capes & Clones
Disney Park(s) in this Post:
Disneyland Park
---
Related Articles:
---