Disney Stickers: Mickey & Friends
Last Updated on: January 1st, 2019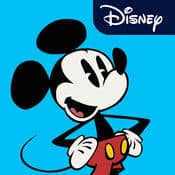 Mickey & friends sticker pack for Apple iMessages.
Oh boy! Add classic fun to your iMessages with this Mickey & Friends sticker pack that includes iconic characters like Mickey, Minnie, and Donald.
• Access iMessage apps—Tap the App Store icon beside the chat field to see your most recently used iMessage app.
• Find new stickers—First tap the App Store icon, then tap the 4-ovals icon in the lower left to bring up the app drawer. Then, tap the + icon to access the Store.
• Use stickers in chat—Tap to send, or touch and hold to put stickers on top of a bubble, other stickers, photos, and videos.
• Apple Watch (iOS 3), iPhone & iPad users (iOS 10)—Transform your chat with animated stickers! Earlier iOS versions and other platforms will see static stickers in chat.
Express yourself in new ways with dynamic and animated Disney Stickers you can put anywhere in your chat. Scale, rotate, and layer stickers—even place them on photos you send and receive! Discover all our sticker packs in the iMessage App Store including Disney's Beauty and the Beast, Pixar's Finding Dory, and more. Use Disney Stickers to add magic to your iMessages!
• SEND dynamic and animated stickers in chat
• PLACE stickers anywhere on your iMessages
• CUSTOMIZE your photos with stickers in chat
• LAYER stickers over each other, in chat, and on photos
• SCALE & ROTATE stickers
Disney Stickers: Mickey & Friends Includes:
Mickey and Minnie – Kiss
Donald – Laugh
Minnie – Love
Mickey – Celebrate
Minnie and Daisy – BFF
Mickey – Wave
Minnie – No
Mickey – Sad
Donald – Anger
Goofy – Confused
Pluto – Sleepy
Goofy – Hungry
Mickey – Fear
Mickey – Idea
Daisy – Annoyed
Accessory – Mickey Ears
Accessory – Minnie's Hat
Accessory – Goofy's Hat
Accessory – Minnie Heart Eyes
Accessory – Mickey Thumbs Up
Accessory – Goofy Garsh