Fancy Nancy (Disney Junior)
Here is everything you need to know about the amazing Disney TV show Fancy Nancy including casting, reviews, fun facts and more. I hope you find this listing informative and helpful!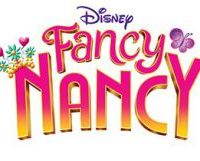 Disney brought a new children's series, based on the popular children's book series Fancy Nancy, to the small screen. Here is what we know.
Show Debut:
Fancy Nancy made its debut on Disney Junior on Friday, July 13th.
Fancy Nancy Description:
Fancy Nancy is animated show based on the series of books written by Jane O'Connor and will air on Disney Junior. The show focuses on the main character Nancy, played by Mia Sinclair Jenness. Here is a quick synopsis from Disney about the show's plot:
Based on the New York Times bestselling book series, Disney Junior's animated family comedy "Fancy Nancy" follows six-year-old Nancy Clancy, a high-spirited young girl whose imagination and enthusiasm for all that is exquisite transforms the ordinary into the extraordinary – from her vast vocabulary to her creative and elaborate attire.

Geared towards kids ages 2-7, each episode features two 11-minute humorous and heartfelt stories that showcase themes of self-expression, originality and love of family. Young viewers are introduced to the problem-solving power of imagination through the relatable, imperfect Nancy and the comical situations she gets herself into.

A creator and true optimist, Nancy is unapologetically herself and holds a steadfast vision of what she expects in the world. Her unwavering belief that she can accomplish her grand ideas encourages those around her to pursue all types of adventures. With help from her sensible best friend Bree, Nancy uses ingenuity and resourcefulness to exemplify that even if life doesn't always go as planned, it's important to make the most of each day and encourage others to do the same.

Nancy demonstrates a love of language and invites young viewers to expand their vocabulary by learning French, or, in her mind, "fancy ways," to say everyday words. Music also plays an important role in the series, with almost every episode featuring new original songs showcasing a variety of musical styles ranging from pop and jazz to big band, classical and swing. The theme song, "Add a Little Fancy," is written and produced by Matthew Tishler ("Austin and Ally," "Teen Beach 2") and the original underscore is composed by TJ Hill.

Nancy's family consists of her parents, Claire and Doug Clancy, a united team whose parenting style focuses on empowering their children to think for themselves and draw their own conclusions; three-year-old sister JoJo, who is always eager to take part in whatever Nancy is doing; and Frenchy, the family's pet dog who adores Nancy. In addition to her tight-knit family, Nancy's neighbor, Mrs. Devine, serves as a mentor to Nancy in all things fancy. (source)
Cast:
Mia Sinclair Jenness as Nancy Clancy
Alyson Hannigan as Claire Clancy
Rob Riggle as Doug Clancy
Spencer Moss as JoJo Clancy
Christine Baranski as Mrs. Devine
George Wendt as Grandpa Clancy
Tatyana Ali as Mrs. James
Chi McBride as Gus
Kal Penn as Mr. Singh
Madison Pettis as Brigitte
Episode List:
Season 1:
S1, Ep1 – Chez Nancy/School de Fancy
S1, Ep2 – Tea Party Trouble/Bonjour Butterfly
S1, Ep3 – Nancy's Ooh La La Spa/Nancy Goes to Work
S1, Ep4 – Nancy Versus Dudley/Nancy Makes Her Mark
S1, Ep5 – Nancy's Devine Sleepover/Nancy's Sacre Blue Fondue
S1, Ep6 – Nancy's Dog Show Disaster/The Case of the Disappearing Doll
S1, Ep7 – La Danse of Friendship/Shoe La La!
S1, Ep8 – Camp Fancy/Nancy's Vanity D'Art
S1, Ep9 – Toodle-oo, Miss Moo/Nancy Clancy, Starmaker
S1, Ep10 – Le Café Parfait/Mademoiselle Mom
S1, Ep11 – Nancy's Costume Clash/Nancy's Ghostly Halloween
S1, Ep12 – Grow Up, Jo Jo!/Supréme Night Out
S1, Ep13 – Ice Skater Extraordinary/Nancy L'Artiste
Season 2:
S2, Ep1 – Vive La Révolution!Million Dollar Minnow
S3, Ep2 – Au Revoir, Jean-Claude/Je Spy with My LittleEye
---
Related News:
---