Here is everything you need to know about the amazing Disney series Elena of Avalor  including casting, episodes, fun facts and more. I hope you find this listing informative and helpful!
Elena of Avalor  Description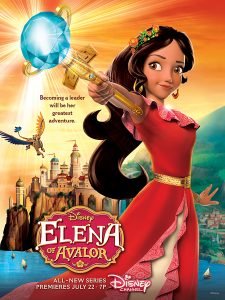 "Elena of Avalor" is an animated television series that premiered on Disney Channel on July 22, 2016. The show was created by Craig Gerber and is a part of Disney's popular princess franchise.
The series is set in the magical kingdom of Avalor and follows the adventures of Elena Castillo Flores, a brave and compassionate teenage princess who becomes the ruler of Avalor after freeing herself from an enchanted amulet that had trapped her for decades.
Elena, voiced by Aimee Carrero, is a strong and determined leader, and she is Disney's first Latina princess. Throughout the series, she faces various challenges, both as a ruler and as a young girl trying to find her place in the world. With the help of her family, friends, and a magical flying creature named Skylar, Elena strives to protect her kingdom and preserve its traditions.
The show incorporates elements of Latin American culture, folklore, and music, adding depth and richness to the storytelling. It also emphasizes themes of leadership, courage, friendship, and the importance of staying true to oneself.
"Elena of Avalor" has been praised for its positive representation of diversity and for empowering young viewers with a strong and relatable female lead character. The show's messages of inclusivity and the celebration of diverse cultures have resonated with audiences of all ages.
The success of "Elena of Avalor" has led to various merchandise, including toys, clothing, and books, further solidifying Elena's place as a beloved addition to the Disney princess lineup.
---
Elena of Avalor  Cast:
Aimee Carrero as Elena
Jenna Ortega as Princess Isabel
Chris Parnell as Migs
Yvette Nicole Brown as Luna
Carlos Alazraqui as Skylar
Emiliano Díez as Francisco
Julia Vera as Luisa
Christian Lanz as Chancellor Esteban
Jillian Rose Reed as Naomi
Joseph Haro as Mateo
Jorge Diaz as Gabe
Keith Ferguson as Zuzo
Joe Nunez as Armando
Constance Marie as Doña Paloma
Lou Diamond Phillips as Victor Delgado
Justina Machado as Carmen
Jaime Camil as Julio
Rich Sommer as Captain Daniel Turner
Tyler Posey as Prince Alonso
Lucas Grabeel as Jiku
Echo Kellum as King Joaquín
---
Elena of Avalor  Crew:
Creator: Craig Gerber
Executive Producers: Craig Gerber and Jamie Mitchell
---
Elena of Avalor  Details:
Year of Debut: 2016
Year of Finale: 2020
Type of Series: Animated
TV Channel/Platform: Disney Junior
Elena of Avalor  Trailer:
Buy Movie
---
Elena of Avalor  Episode List:
Season 1 Episode List:
S1 E1: First Day of Rule
S1 E2: Model Sister
S1 E3: All Heated Up
S1 E4: Island of Youth
S1 E5: Spellbound
S1 E6: Prunce Too Charming
S1 E7: Finders Leapers
S1 E8: Royal Retreat
S1 E9: A Day to Remember
S1 E10: The Scepter of Light
S1 E 11: Navidad
S1 E12: Olaball
S1 E13: Flight of the Jaquins
S1 E14: Crystal in the Rough
S1 E15: The Princess Knight
S1 E 16: Captain Turner Returns
S1 E 17 : King of the Carnival
S1 E18: My Fair Naomi
S1 E19: Spirit Monkey Business
S1 E20: Wizard in Training
S1 E21: Realm of the Jaquins
S1 E 22: The Gecko's Tale
S1 E 23: Party of a Lifetime
S1 E24: Blockheads
S1 E25: Masks of Magic
Season 2 Episode List:
S2 E1: The Jewel of Maru
S2 E2: Royal Rivalry
S2 E3: The Curse eof El Guapo
S2 E4: Three Jaquins and a Princess
S2 E5: A Spy in the Palace
S2 E6: Science Unfair
S2 E7: Rise of the Sorceress
S2 E8: Shapeshifters
S2 E9: The Scepter of Night
S2 E10: The Race for the Realm
S2 E11: A Tale of Two Scepters
S2 E12: Class Act
S2 E13: All Kingdoms Fair
S2 E14:A Lava Story
S2 E15: Song of the Sirenas
S2 E16: The Tides of Change
S2 E17: The Return of El Capitan
S2 E18: Finding Zuzo
S2 E19: Snow Place LIke Home
S2 E20: Two Left Fins
S2 E21: Movin' On Up
---