Matterhorn Bobsleds (Disneyland)
Here is everything you need to know about the amazing Matterhorn Bobsleds attraction at Disneyland including history, reviews, fun facts, photos and more. I hope you find this listing informative and helpful!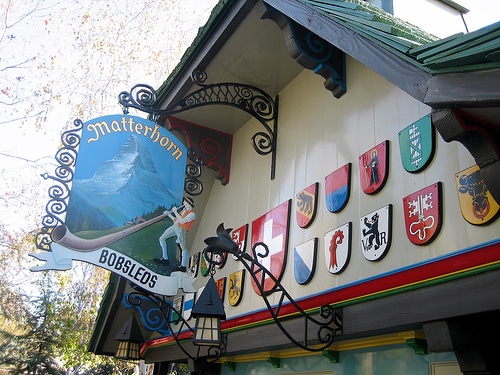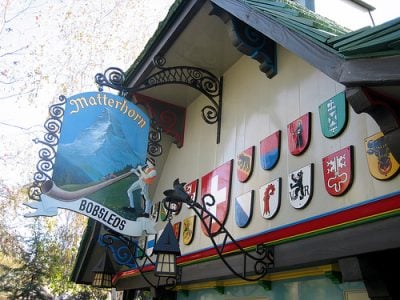 Matterhorn Bobsleds Description:
On the Matterhorn Bobsleds, embark on a thrilling, high-speed run down the icy slopes of Switzerland's most famous peak.
Make your way inside a traditional, chalet-inspired rail station in the shadow of Switzerland's renowned Matterhorn mountain. Hop aboard a 6-person, weather-beaten sled and brace yourself against howling winds as you climb 80 feet high inside an icy cave. Take in the sweeping views at the summit and then hang on, because the only way off the mountain is down!
The Race Is On
Break out of the side of the mountain and race down the base of the peak. Swoop in and out of shadowy caves and along jagged rocky ledges. Throttle through icy chutes and around frozen precipices. Whisk across wooden and stone bridges, pass under waterfalls and weave around mysteriously glowing ice crystals before splashing down in a shallow alpine lake.
But the real peril is not the snow or sleet. Folklore has it that a growling monster known as the Abominable Snowman lives inside the mountain—and that he will do anything and everything to protect his home.
Do you have what it takes to brave the mountain and discover if the legend of the mysterious snow monster is true?
Pick a Path
Choose one of 2 nearly identical bobsled runs: one located in Fantasyland and the other along the outskirts of Tomorrowland. Each has a separate queue and, during slower periods, only a single track may be in operation. Both tracks are equally fun, but keep in mind that the Fantasyland track is slightly longer and features some sharper curves.
Related Music:
Photo by peterme
Disney Park(s) in this Post:
Disneyland Park
---

Related News:

---

Related Articles:

---