Mickey and the Roadster Racers (Disney Junior TV Show)
Here is everything you need to know about the amazing Disney TV show Mickey and the Roadster Racers including casting, reviews, fun facts and more. I hope you find this listing informative and helpful!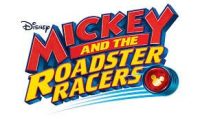 Mickey and the Roadster Racers Description:
Disney Junior's animated "Mickey and the Roadster Racers" is a madcap racing series that showcases Mickey and his pals – Minnie, Donald, Daisy, Goofy and Pluto – and their unique transforming vehicles as they take on humorous high-spirited races and worldwide capers. The stories are designed to impart social and emotional lessons about friendship, teamwork, optimism and good sportsmanship.
Geared toward kids 2-7, each episode features two 11-minute stories as Mickey and his friends gear up for racing and other exciting adventures in the mini-metropolis of Hot Dog Hills and around the world. At the push of a button, the gang's daily cars transform into personalized roadster racers: Mickey's Hot Doggin' Hot Rod, Donald's Cabin Cruiser, Goofy's Turbo Tubster, Daisy's Snapdragon and Minnie's Pink Lightning, which also converts into the Happy Helpers Van.
When Minnie and Daisy are not busy racing, they run their own successful business as the Happy Helpers, solving problems for anyone in need of a helping hand. The plucky pair demonstrate determination, ambition and resourcefulness as they take on challenges of all kinds, from rescuing a cat in a tree to egg-sitting to retrieving lost jewelry from the sewers of Paris.
With Mickey leading the way with his eternal kindness, contagious joy and authentic optimism, the series is designed to excite young viewers about learning new skills and the sense of accomplishment that comes from a job well done. Even when the gang competes against each other in a race or a Happy Helper assignment seems impossible, their strong friendship stays top priority and helps them find solutions to their problems.
As with all Disney Junior programming, "Mickey and the Roadster Racers" is guided by an established curriculum that nurtures multiple areas of child development: physical, emotional, social and cognitive, thinking and creative skills, as well as moral and ethical development. Stories emphasize multiple ways to solve problems and help kids develop critical thinking skills, along with perseverance and resilience. Curiosity and discovery are central to the series, as Mickey and his pals explore different countries, cultures and traditions on their adventures. (source)
Mickey and the Roadster Racers Cast:
Bret Iwan as Mickey Mouse
Russi Taylor as Minnie Mouse
Tress MacNeille as Daisy Duck
Daniel Ross as Donald Duck
Jimmie Johnson as Jiminy Johnson
Danica Patrick as Danni Sue
Jeff Gordon as Gordon Gear
Jay Leno as announcer Billy Beagle
Tim Gunn as Robbie Roberts
Gordon Ramsay as Chef Oxley
Hector Elizondo as Grandpa Beagle
Disney Character(s) in this Post:
Daisy Duck