Mr Toad's Wild Ride (Disneyland)
Here is everything you need to know about the amazing Mr Toad's Wild Ride attraction at Disneyland including history, reviews, fun facts, photos and more. I hope you find this listing informative and helpful!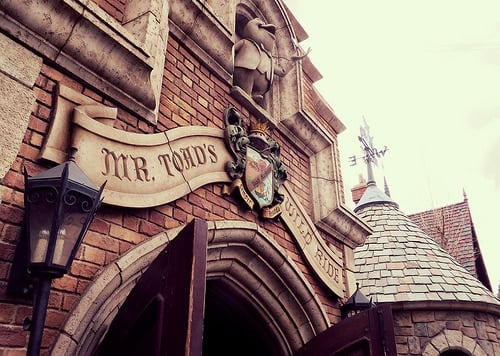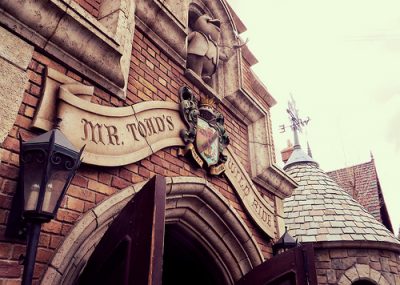 Mr Toad's Wild Ride Description:
Driven mad by his first automobile, Mr. Toad embarks on an uproarious trip toward "nowhere in particular"… and you're invited! Recreating the frenzied journey of J. Thaddeus Toad, Esq. from the Wind in the Willowssegment of the animated film The Adventures of Ichabod and Mr. Toad, Mr. Toad's Wild Ride is a frantic flight through the English countryside the whole family is sure to love.
Hold On! Stroll through a well-manicured garden into a lavish manor known to all as Toad Hall. Hop inside a 2-person, open-air buggy and begin your wild drive by zooming beneath the vaulted ceiling of the main parlor, the cheerful song "Merrily On Our Way" playing overhead. Skid past teetering stacks of books in a library and barrel through a fireplace before hurtling wildly into a formal dining room, dishes rattling and glass crackling. Then, careen through a wall-sized window and race past a riverbank narrowly missing a sheep herder and his flock.
That's when the motor mayhem really begins! While avoiding a platoon of pursuing policemen, you'll crash through scaffolding, splatter a stack of pies, smash crates and even ignite a fiery explosion. But when you're caught and sentenced for your runaway crimes, it looks as if the jig is up. Will you escape your punishment? Or is something even more dire waiting for you down the road?
Photo by travelingnorthagency
Disney Character(s) in this Post:
J. Thaddeus Toad (The Adventures of Ichabod and Mr Toad)