Radiator Springs Racers (Disney California Adventure)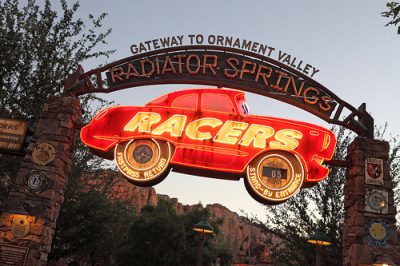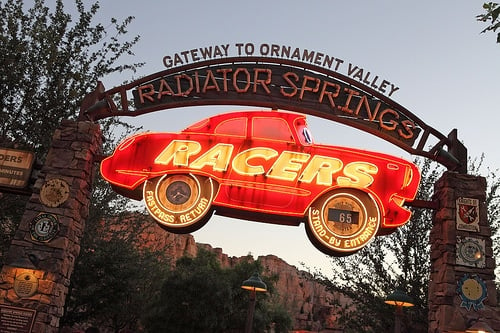 Radiator Springs Racers Description:
At Radiator Springs Racers, kick the fun into overdrive on this auto race attraction that features familiar characters, fantastic scenery and "wheel" thrills!
Stanley's Oasis
Before you hit the open road, stroll through the original settlement of Radiator Springs, a lovely town that began as the Comfy Cavern Motor Court.
See how Stanley capitalized on a natural cold spring and built a series of ingenious attractions, like a "pull up and fill-up" coolant station—a building made entirely out of empty oil bottles.
Ornament Valley and Radiator Springs
Board a 6-person car for a seemingly peaceful journey through Ornament Valley. Drive past the plunging Radiator Falls waterfall and head toward the start line at Radiator Springs.
Mater's Mischief
Mater is recruiting newcomers to participate in one of his favorite activities, tractor tipping! Take a brief detour through the fields to see this screwy spectacle.
Many familiar faces—Lightning McQueen, Doc Hudson, Mater, Sally, Luigi, Guido, Mack and Ramone—are eager to welcome you to the big race and help along the way.
Ya Auto Not Look Fuelish
It's almost race time—gotta look good! Fine-tune your car at either Luigi's Casa Della Tires or Ramone's House of Body Art. You'll want to ride multiple times to see both.
Once you're set, roll over to the start line—and get ready, get set…
GO!
Come side-by-side with your competition. Your car is pitted against another for a friendly race for first place at the checked flag.
Zip over hills, zoom around high-banked turns, and cruise down camelback straightaways past spectacular red-rock formations.
While there is only one winner, everyone is sure to have a great time. Just like in the Cars movie, the focus is on the journey, not the finish line!
Photo by Sam Howzit
Disney Character(s) in this Post:
Lightning McQueen (Cars)