Read with Doc: Word Building Mobile App
Last Updated on: December 31st, 2018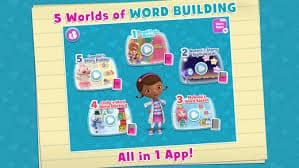 Learn all about word building with the second in the series of Read with Doc McStuffins apps! With hundreds of little lessons to learn, you can join Doc and her friends as you explore 5 magical and engaging worlds of word building skills:
Practice reading simple words and short vowels on a royal train ride!
Help Doc find the most common sight words in the night sky!
Splash alongside Melinda as she helps you read words with long vowels!
Explore putting together long and short vowel words with Chilly in the snow!
Create sentences with adjectives, verbs, nouns to build your own stories!
Read with Doc: Word Building Features:
Includes 5 unique game experiences in 1 app!
Developed and reviewed with literacy expert consultation.
Engaging and familiar Disney animations and favorite characters from Doc McStuffins help make reading even more fun and memorable!
Each game experience focuses on practicing different early word building skills:

Decode and blend simple consonant-vowel-consonant (CVC) words
Recognize 86 of the most common sight words
Decode and blend regular consonant-vowel-consonant-'e' words
Decode and blend words with common consonant blends, vowel pairs, and more
Match pictures and text to build simple sentences

Animated narrative videos with Doc McStuffins and friends in each game
Each game has its own rate of progression and multiple levels!
Read with Doc: Word Building Demo Video: