Here is everything you need to know about the amazing Disney series Doc McStuffins  including casting, episodes, fun facts and more. I hope you find this listing informative and helpful!
Doc McStuffins  Description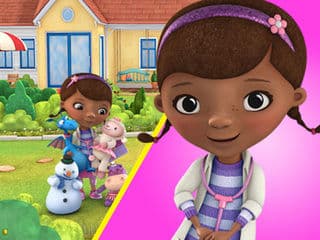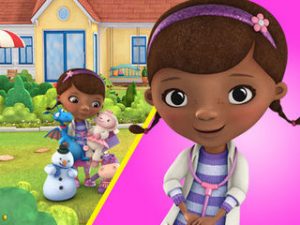 The Peabody and NAACP Award-winning "Doc McStuffins" is an imaginative animated series about Doc McStuffins, a six-year-old girl who communicates with and heals stuffed animals and broken toys out of her backyard playhouse clinic.
Assisting Doc with the day-to-day operations at the clinic are her much-loved friends: Stuffy, an overly proud dragon; Lambie, her cuddly best friend; Hallie, a jolly and caring hippo nurse; Squeakers, an alarmist squeaky toy fish; and Chilly, a snowman who spends a lot of time getting check-ups at the clinic. Whether it's a case of loose stitching, low batteries or a blow-up toy that's sprung a leak, Doc and her pals are always there to lend a helping hand while imparting to young viewers the importance of taking care of oneself and others. Each episode features two 11-minute stories and an original song and showcases the hallmarks of great Disney storytelling – fantasy and wish fulfillment. (source)
---
Doc McStuffins  Cast:
Kiara Muhammad and Laya DeLeon Hayes as Doc
Loretta Devine as Hallie
Lara Jill Miller as Lambie
Robbie Rist as Stuffy
Jess Harnell as Chilly
Andre Robinson as Donny McStuffins
Kimberly Brooks as Mom McStuffins
Gary Anthony Williams as Dad McStuffins
---
Doc McStuffins  Details
Year of Debut: 2012
Year of Finale: 2020
Type of Series: Animated
TV Channel/Platform: Disney Junior
Doc McStuffins  Trailer:
Buy Movie
---