Here is everything you need to know about the amazing Disney series Doc McStuffins  including casting, episodes, fun facts and more. I hope you find this listing informative and helpful!
Doc McStuffins  Description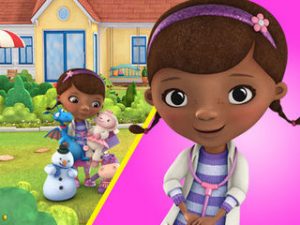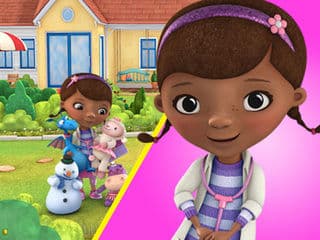 "Doc McStuffins" is an animated children's television series that premiered on Disney Junior on March 23, 2012. The show was created by Chris Nee and produced by Brown Bag Films and Disney Junior Original Productions.
The series follows the adventures of a young girl named Dottie "Doc" McStuffins, who dreams of becoming a doctor like her mother. When she plays pretend, her toys magically come to life, and she becomes a "toy doctor," providing medical care and diagnoses to her toy patients.
Doc McStuffins' magical stethoscope allows her to communicate with the toys, and she runs a clinic in her playhouse, appropriately named the "McStuffins Toy Hospital."
Each episode of "Doc McStuffins" features a new medical case, where Doc and her stuffed animal friends, including Stuffy the dragon, Lambie the lamb, Hallie the hippo, and Chilly the snowman, work together to help the toys recover from their "ouchies" and "boo-boos."
The show has a strong emphasis on empathy, problem-solving, and the importance of caring for others. It also introduces young viewers to basic medical concepts and terminology in a child-friendly and engaging way.
"Doc McStuffins" has been highly praised for its positive representation of diversity, strong female lead character, and its educational and empowering messages for young children. The series has garnered a loyal fan base and has won multiple awards, including several NAACP Image Awards.
The show's popularity led to merchandise, books, and even a spin-off series called "The Doc Files," which includes live-action interstitials with real kids sharing their own experiences with health and medicine.
"Doc McStuffins" has made a significant impact in children's programming, promoting inclusivity, kindness, and the importance of imaginative play while teaching valuable life lessons in a fun and entertaining way.
---
Doc McStuffins  Cast:
Kiara Muhammad and Laya DeLeon Hayes as Doc
Loretta Devine as Hallie
Lara Jill Miller as Lambie
Robbie Rist as Stuffy
Jess Harnell as Chilly
Andre Robinson as Donny McStuffins
Kimberly Brooks as Mom McStuffins
Gary Anthony Williams as Dad McStuffins
---
Doc McStuffins  Details:
Year of Debut: 2012
Year of Finale: 2020
Type of Series: Animated
TV Channel/Platform: Disney Junior
Doc McStuffins  Trailer:
Buy Movie
---