Doc McStuffins
Last Updated on: February 14th, 2023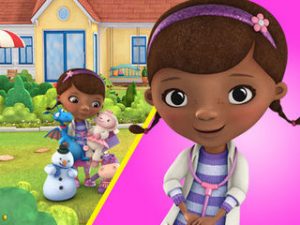 Who is Doc McStuffins?
Doc McStuffins is the main character in the Disney Junior animated television series Doc McStuffins. She is a young African-American girl who aspires to become a doctor like her mother. She is known for her ability to communicate with and heal her broken toys and stuffed animals using her "magic stethoscope", and for her catchphrase "I feel a "Boo-Boo" coming on!" Doc McStuffins is a role model for children, teaching them the importance of taking care of oneself and others, as well as promoting empathy, kindness, and responsibility.
The Collection:
Here is the Internet's largest collection of Doc McStuffins-related movies, TV shows, toys and other products. Added to regularly.
Show Appearances
---
Park Appearances
---
---
---
Related Products
---
---
---
---
---
---
---
---
---
In the News
Disney Celebrates 10th Anniversary of "Doc McStuffins" with Musical Special, Disney Junior Marathon, New Song, and More!, February 8, 2022
---