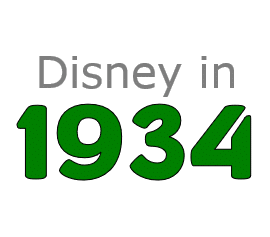 The Walt Disney Company has a rich and lengthy history with decades of amazing movies, shows and park experiences. To commemorate Disney's 100th birthday this year, I am spotlighting the company's history year by year in this new 'Disney by the Years' series.
Here is a quick rundown of everything that happened in the world of Disney in the year 1934. I hope you find this lookback in time helpful and entertaining.
Disney Company Headlines in 1934:
1934 was a relatively quiet year for the Walt Disney Company. Much of the company was focused on Snow White and the Seven Dwarfs as production of the film picked up steam as the year progressed.
Beyond movies, a few other notable headlines for the Disney Company in 1934 included:
Disney was granted a trademark for Mickey Mouse.
Mickey Mouse was added to the Encyclopedia Britannica for the first time.
Disney Legends Ward Kimball and Frank Thomas joined the company.
Disney Movies Headlines in 1934:
In 1934, Disney was still three years from its first major theatrical release, but the company did release a number of Silly Symphony shorts to theaters during the year. These included:
January 13 – The China Shop
January 13 – Shanghaied
February 10 – The Grasshopper and the Ants
February 17 – Camping Out
March 3 – Playful Pluto
March 24 – Funny Little Bunnies
April 13 – The Big Bad Wolf
May 19 – Gulliver Mickey
June 9 – The Wise Little Hen
June 16 – Mickey's Steam-Roller
July 14 – The Flying Mouse
August 11 – Orphan's Benefit
September 1 – Peculiar Penguins
September 29 – Mickey Plays Papa
November 3 – The Goddess of Spring
November 17 – The Dognapper
December 15 – Two-Gun Mickey
Disney was also awarded an Oscar in 1934 for the short Three Little Pigs.
Probably the biggest news for Disney movies in 1934 was the debut of Donald Duck. The iconic Disney character was first seen on the big screen in the short The Wise Little Hen in June.
That's all for 1934. Stay tuned for in-depth looks at additional years in the very near future!