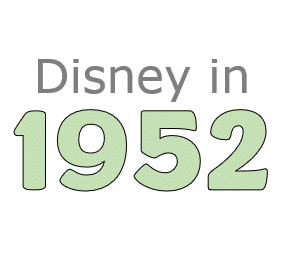 The Walt Disney Company has a rich and lengthy history with decades of amazing movies, shows and park experiences. To commemorate Disney's 100th birthday this year, I am spotlighting the company's history year by year in this new 'Disney by the Years' series.
Here is a quick rundown of everything that happened in the world of Disney in the year 1952. I hope you find this lookback in time helpful and entertaining.
Disney Company Headlines in 1952:
Disney, as a company, was pretty quiet in 1952. They did make a bit of news in March, when the Burbank Daily Review first reported on the possibility of a Disneyland project.
After that, in June, Walt established Disneyland Incorporated and in December, WED Enterprises (today known as Disney Imagineering) was established.
Disney Movies Headlines in 1952:
1952 was a relatively quiet year for Disney at the box office. The studio released a number of shorts, but the only feature length film released during the year was the live-action film The Story of Robin Hood and His Merrie Men starring Richard Todd.
Some of the shorts released in 1952 included;
Donald Applecore
Father's Lion
Hello Aloha
How to Be a Detective
Lambert the Sheepish Lion
Let's Stick Together
Man's Best Friend
Pluto's Christmas Tree
Pluto's Party
Susie the Little Blue Coupe
Teachers are People
The Little House
The Olympic Elk
Trick or Treat
Two Chips and a Miss
Two Gun Goofy
Two Weeks Vacation
Uncle Donald's Ants
Water Birds
As was typical of the times, Disney also re-released a hit film in their 'vault' in 1952. In February 1952, the Disney animated hit Snow White and the Seven Dwarfs was re-released to theaters.
Finally, in 1952, Disney had a bit of Oscar recognition. In February, the studio received 3 Oscar nominations for Alice in Wonderland, Lambert the Sheepish Lion and Nature's Half Acre. In March, Disney won the Shorts Oscar for Nature's Half Acre.
That's all for 1952. Stay tuned for in-depth looks at additional years in the very near future!