Here is everything you need to know about the amazing Catal Restaurant at Disneyland including history, reviews, fun facts, photos and more. I hope you find this listing informative and helpful!
Catal Restaurant Description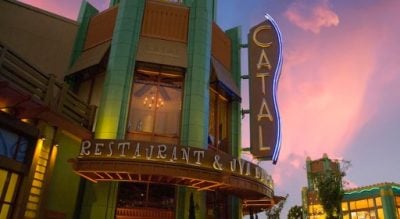 At Catal Restaurant, bask in the elegance of fine dining with grilled seafood, choice meats, burgers and salads.
Under the leadership of chef-restaurateur Joachim Splichal, the illustrious Patina Restaurant Group delivers the concept of Catal—modern interpretations of classic Mediterranean specialties, designed to satisfy even the most discerning of appetites.
Luxuriate in the modern, airy dining room upstairs, or enjoy a panoramic view of the promenade from the second-story alfresco terrace. Browse the well-curated selection of upscale, seasonal fare, classic Catalan dishes made tantalizingly new.
On select nights, you may be able to catch a glimpse of the Disneyland Park fireworks from the patio!"
---
Catal Restaurant Details
---
Catal Restaurant Reviews
---
---