Here is everything you need to know about the amazing Disney's Pop Century Resort at Walt Disney World including history, reviews, fun facts, photos and more. I hope you find this listing informative and helpful!
Description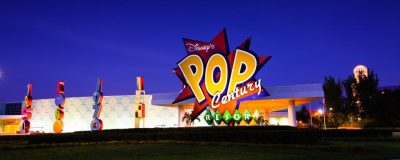 Disney's Pop Century Resort is a value-level resort located in the Walt Disney World Resort. The resort is designed to celebrate the pop culture of the 20th century, with different sections of the resort themed to different decades.
The resort features over 2,800 guest rooms, with standard rooms accommodating up to four guests. The rooms are brightly decorated and offer modern amenities, such as flat-screen TVs, mini-refrigerators, and free Wi-Fi.
The resort offers a variety of dining options, including a food court that serves breakfast, lunch, and dinner, as well as a poolside bar and grill. The food court features different stations serving a variety of foods, including pizza, burgers, sandwiches, and salads.
Pop Century Resort also offers a range of recreational activities for guests, including three swimming pools, a playground, a jogging trail, and an arcade. The resort also offers bus transportation to all of the Walt Disney World theme parks, water parks, and other attractions.
Overall, Disney's Pop Century Resort is a great option for guests who are looking for affordable accommodations that are still fun and offer the Disney magic. It's a great choice for families and budget-conscious travelers who want to stay in a themed resort with a variety of amenities and activities.
Resort Restaurants:
---
Fun Facts
Plans for Pop Century originally called for a resort double its current size, but plans were scaled back due to the decline in tourism in the early 2000's.
The two halves were going to be split into the 'Legendary Years' and the 'Classic Years.' Only the Classic Years were built.
Disney ended up building the Art of Animation Resort on the second half of the Pop Century property in 2012.
Number of guest rooms: 2,880 rooms and they average 260 sq ft per room.
The bowling pin structures are 65 feet high.
The Rubik's Cube structure is 41 feet high.
The 8-track tape structures are 35 feet tall.
The table soccer players are 12 feet high.
It took 125,000 gallons of paint to cover the resort's interior and exterior walls.
---
Important Details
Disney Resort: Walt Disney World Resort
Attraction Type: Hotel
Year Opened: 2003
Address: 1050 Century Drive, Lake Buena Vista, Florida 32830-8433
Year Opened: (407) 938-4000
Type of Hotel: Value Resort
---
Reviews
---