Here is everything you need to know about the extinct ESPN Club restaurant formerly of Walt Disney World's Boardwalk including history, reviews, fun facts, photos and more. I hope you find this listing informative and helpful!
ESPN Club | Disney World Description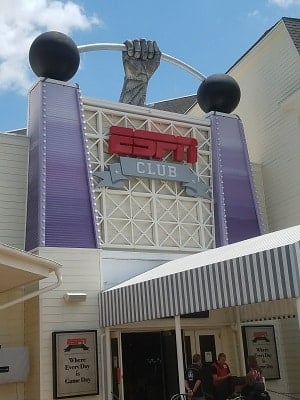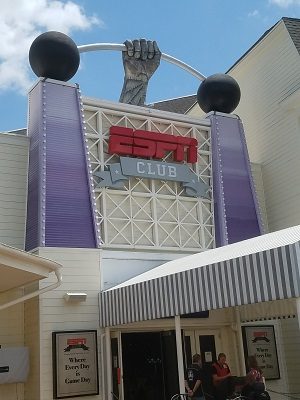 ESPN Club was a restaurant at the Boardwalk Resort in Walt Disney World.
A Sports Fan's Paradise
Watch virtually any televised game from one of nearly 100 video monitors, each featuring global satellite feeds. At ESPN Club, you can take your pick from up to 30 different programs—even in the bathroom, where there are TVs over every stall!
Revel in the adrenaline-filled atmosphere of a stadium, but be sure to arrive early on game days—even with a whopping 13,000 square feet, this place fills up fast! Seating is first-come, first-served and based on availability. You can also make weekday lunch reservations—available Mondays through Fridays only. We don't take reservations for dinners (or for weekend lunches) due to the unpredictability of game schedules.
Food, Drink & Live Action
Get in the game with an enhanced pub-style menu. Kick off your meal with popular starters like mouth-watering ESPN Wings or Loaded Tots, and then complete a pass with our Craft Beer Batter Fish & Chips or Crunch Burger. Finally, high five yourself with a gooey serving of S'mores Bread Pudding!
Guests 21 and over can score with delicious specialty cocktails and craft beers on tap, while surrounded by the best in televised sports entertainment—including a 108-square-foot video wall.
Sports Central
For a truly interactive experience, stop by the Sports Central television and radio studio. Shows such as Mike & Mike in the Morning, Sports Reporters and Up Close have been broadcast from this fully functional sports media and entertainment facility. And if you're really on your game, you might catch a live interview with a celebrity athlete—right there in the bar! (source)
---
ESPN Club | Disney World Details
---
ESPN Club | Disney World Reviews
---