Here is everything you need to know about the Main Street Firehouse at Walt Disney World's Magic Kingdom including history, reviews, fun facts, photos and more. I hope you find this listing informative and helpful!
Main Street Firehouse | Disney World Description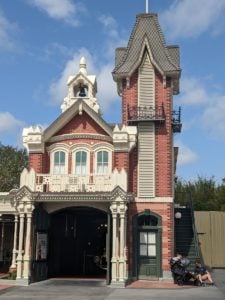 The Main Street Firehouse is a building located on Main Street, U.S.A. in the Magic Kingdom theme park at Walt Disney World Resort in Florida. It is located near the entrance of the park, and serves as the park's first aid station. Guests can visit the Firehouse for medical assistance, first aid, and lost and found services. The building is also used for special events and character meet-and-greets. The Main Street Firehouse was designed to look like a turn-of-the-century fire station, with large red doors and a fire pole. It is also home to the Main Street Philharmonic, a band that performs on the streets of Main Street, U.S.A. during the day and sometimes evening parades. The Firehouse is a popular spot for guests to take pictures with the iconic Disney characters dressed up as fireman, it's also a great spot to cool down during the hot Florida days.
---
Main Street Firehouse | Disney World Details
---