Here is everything you need to know about the amazing Rainforest Café Restaurant at Walt Disney World's Disney's Animal Kingdom including history, reviews, fun facts, photos and more. I hope you find this listing informative and helpful!
Description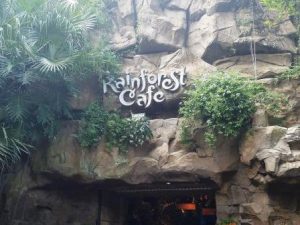 As of the present time, Rainforest Café Restaurant at Disney's Animal Kingdom theme park in Walt Disney World Resort, Florida, provides guests with an immersive and thrilling dining experience inspired by the wonders of the rainforest. This restaurant is part of the Rainforest Cafe chain and features a captivating atmosphere complete with lush greenery, tropical wildlife, and special effects that transport diners to a vibrant jungle setting.
The Rainforest Café Restaurant at Disney's Animal Kingdom perfectly complements the park's theme, which celebrates the beauty and diversity of nature and wildlife. Upon entering the restaurant, guests are greeted by the sights and sounds of a bustling rainforest, including cascading waterfalls, lifelike animatronic animals, and simulated thunderstorms that create a sensory adventure.
The menu at Rainforest Café offers a wide array of flavorful dishes, drawing inspiration from global cuisine with an emphasis on American classics. From appetizers and salads to hearty entrees and delectable desserts, there is something to satisfy every appetite. The restaurant also offers a variety of refreshing tropical drinks and specialty cocktails, enhancing the tropical dining experience.
---
Important Details
---
Reviews
---