Here is everything you need to know about the amazing Splitsville Luxury Lanes bowling alley and restaurant at Disneyland including history, reviews, fun facts, photos and more. I hope you find this listing informative and helpful!
Splitsville Luxury Lanes Description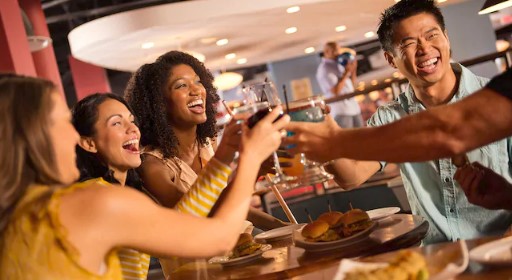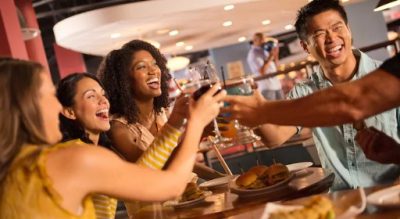 At Splitsville Luxury Lanes, discover an eclectic eatery that fuses modern and retro elements for a fresh spin on food, music and entertainment.
Hungry for old-fashioned fun? Boasting a cool vintage vibe, Splitsville Dining Room offers a mouthwatering menu of classic lane favorites and gourmet fare sure to please palates of all ages—with a heaping helping of excitement on the side! This massive yet casual, 2-story hotspot features floor-to-ceiling windows, 2 state-of-the-art kitchens and 4 indoor/outdoor seating areas that span 40,000 square feet right in the heart of the Downtown Disney District.
Gather the gang for a few games while enjoying hand-tossed pizzas, gourmet burgers, sushi or other chef specialties like grilled avocado with ahi tuna and filet sliders, to name a few—all in a family-friendly atmosphere that harkens back to the "golden age of bowling." Whether eating at one of 20 lanes or dining tableside, you'll find something to captivate every taste. The flat-screen televisions and daily entertainment are sure to strike your fancy—with style to spare!
---
Splitsville Luxury Lanes Details
---
Splitsville Luxury Lanes Reviews
---
---