Here is everything you need to know about the amazing Sunshine Tree Terrace stand at Walt Disney World's Magic Kingdom including history, reviews, fun facts, photos and more. I hope you find this listing informative and helpful!
Sunshine Tree Terrace Description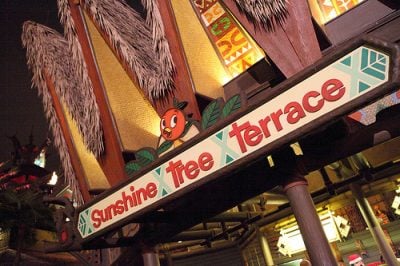 At the Magic Kingdom's Sunshine Tree Terrace, sip on some sunshine with a delicious citrus swirl—a tasty soft-serve ice cream blended with frozen juice. Also, be sure to sample some of our other refreshments, including a raspberry lemonade slush that is sure to leave you beaming!
---
Sunshine Tree Terrace Fun Facts
So, the history of Sunshine Tree Terrace is a bit complicated. The restaurant Sunshine Tree Terrace actually dates back to to opening day in 1971, but was originally located where Aloha Isle is today. The two restaurants flip-flopped in 2015.
This location dates back to the Magic Kingdom's opening day, when it opened as Veranda Juice Bar.
---
Sunshine Tree Terrace Details
---
Sunshine Tree Terrace Reviews
---
---