Here is everything you need to know about the amazing T-Rex at Walt Disney World's Disney Springs including history, reviews, fun facts, photos and more. I hope you find this listing informative and helpful!
T-Rex Description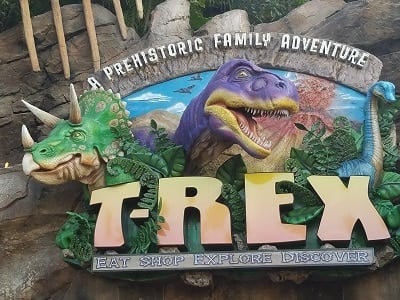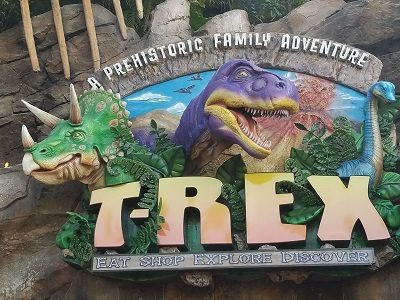 At T-Rex surround yourself with the sights and sounds of a prehistoric world when you explore this dinosaur-themed café teeming with hands-on discovery zones and creative cuisine.
From salads to steaks, tear into tasty tectonic plates that every creature in your family will enjoy. Brought to you by the same folks behind Rainforest Café, T-REX features American fare sure to please herbivores, omnivores and carnivores alike.
Mammoth Main Courses
Hatchlings will be ravenous for the dinosaur-shaped Jurassic Chicken Tidbits and Paleo Pizza. Meanwhile, the evidence of your hunger is mounting—so it's a good time to investigate the size and taste of the Guac-asaurus Burger, munch on Tar Pit Fried Shrimp or devour a Kale & Red Quinoa Salad.
As the end draws near, extinction is imminent: Chocolate Extinction, a colossal fudge cake with ice cream and Butterfinger crumbs. If that doesn't finish you off, try the Ice Age Indulgence or the Meteor Bites!
Hunter-gatherers 21 years of age and older, head to the Watering Hole and knock back a Caveman Punch or the earth-shattering Category "5," available in a keepsake glass. A selection of wines and domestic and imported beers is also available. (source)
---
T-Rex Details
Disney Resort: Walt Disney World Resort
Disney Park: Disney Springs
Attraction Type: Restaurant
Year Opened: 2008
Type of Restaurant: American
---
T-Rex Reviews
---
---