Here is everything you need to know about Walt Disney World's Epcot's extinct Tapestry of Nations Parade parade including history, fun facts, photos and more. I hope you find this listing informative and helpful!
Tapestry of Nations Parade | Disney World Description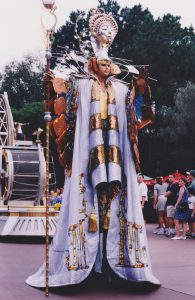 Epcot's Tapestry of Nations Parade was a daily parade in the park's World Showcase area. It ran the entire span of the Showcase from Mexico to Canada and featured a wide variety of props and performers such as drummers and puppeteers.
It was created as part of Epcot's Millennium Celebration. It ran from 1999-2001 and then gave way to the similar Tapestry of Dreams parade.
---
Tapestry of Nations Parade | Disney World Details
Tapestry of Nations Parade | Disney World Experience:
---
---