Here is everything you need to know about the amazing The Lunching Pad restaurant at Walt Disney World's Magic Kingdom including history, reviews, fun facts, photos and more. I hope you find this listing informative and helpful!
Description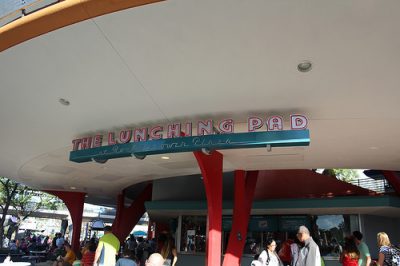 The Lunching Pad is a quick-service dining location at Disney World's Magic Kingdom in Orlando, Florida. The restaurant is located in Tomorrowland and is known for its delicious hot dogs and other snack items.
The menu at The Lunching Pad features a variety of hot dogs with a variety of toppings, as well as pretzels, churros, and other snacks. One of the most popular items on the menu is the Foot-long Hot Dog, which can be topped with chili, cheese, onions, or sauerkraut. Other popular items include the Pepper Jack Cheese Stuffed Pretzel, which is filled with melted cheese and spicy peppers, and the Mickey Mouse Pretzel, which is shaped like the iconic Disney character.
The Lunching Pad also serves a variety of cold beverages, including soda, lemonade, and iced tea, as well as specialty drinks like the Galaxy Lemonade, which is a mix of Powerade and lemonade, and the Frozen Coca-Cola, which is a slushie-style drink made with Coke.
Overall, The Lunching Pad is a great place to grab a quick and delicious snack or hot dog while exploring Tomorrowland at the Magic Kingdom. The restaurant's futuristic theming and convenient location make it a popular dining destination for visitors of all ages.
---
Fun Facts
The Lunching Pad restaurant dates back to 1972 when it was located where Auntie Gravity Galactic Goodies is currently located. During the Tomorrowland overhaul of the mid-90's, it moved to its current location in Rockettower Plaza replacing The Space Bar.
This location dates back to 1974 when The Space Bar opened.
The Lunching Pad was one of the few places in Disney World where you could order a Handwich.
---
Important Details
---
Reviews
---