Here is everything you need to know about Walt Disney World's Magic Kingdom's PeopleMover ride including history, fun facts, photos and more. I hope you find this listing informative and helpful!
Description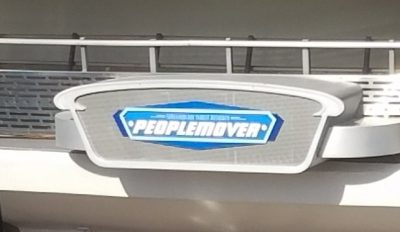 The Tomorrowland Transit Authority PeopleMover is a beloved and iconic attraction located in Tomorrowland at Magic Kingdom, Walt Disney World Resort in Florida. As part of the Magic Kingdom's original lineup of attractions when it opened in 1971, the PeopleMover has been delighting guests with its unique transportation system and scenic views for decades.
The PeopleMover is a gentle, continuously moving ride that transports guests on elevated tracks throughout Tomorrowland. The ride vehicles, known as "PeopleMovers," are spacious, open-air cars that provide a comfortable and leisurely journey through the land.
The attraction offers a behind-the-scenes tour of Tomorrowland's various attractions and buildings, allowing guests to catch glimpses of other rides, like Space Mountain and Buzz Lightyear's Space Ranger Spin, as they pass by. The PeopleMover's slow-moving pace offers guests ample time to take in the sights, sounds, and details of Tomorrowland's futuristic and vibrant environment.
The PeopleMover experience also includes narration that shares fun facts and anecdotes about Tomorrowland's attractions, providing a bit of Disney magic and storytelling throughout the ride.
Aside from being an enjoyable transportation attraction, the Tomorrowland Transit Authority PeopleMover is a relaxing and scenic respite for guests to rest their feet and take in the beauty of Tomorrowland from an elevated perspective.
Throughout its history, the PeopleMover has garnered a loyal fan base and earned a reputation as a classic and timeless Disney experience. Its popularity is a testament to the charm of its simple design and the sense of wonder it evokes, making it a must-do attraction for guests of all ages who want to experience the magic of Tomorrowland in a laid-back and enjoyable way.
---
Fun Facts
The attraction—originally called the WEDWay PeopleMover—opened on July 1, 1975 and was based on the PeopleMover at Disneyland park.
The ride has had 4 narrators over the years: Jack Wagner, ORAC-1, Pete Renaday and Mike Brassell.
The ride averages a speed of 10 feet per second except in the loading and unloading area where it moves at 2.7 feet per second.
---
Important Details
---