Here is everything you need to know about the amazing Troubadour Tavern restaurant at Disneyland including history, reviews, fun facts, photos and more. I hope you find this listing informative and helpful!
Troubadour Tavern | Disneyland Description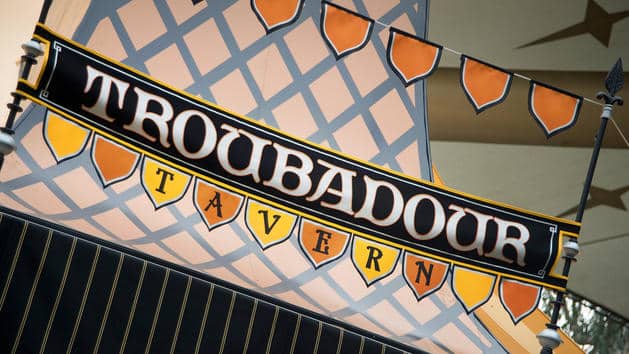 Troubadour Tavern is a quick-service restaurant located in the Fantasyland area of Disneyland in Anaheim, California. The restaurant offers a variety of food and beverage options, including snacks, sandwiches, and beverages.
One of the most popular items on the menu at Troubadour Tavern is the baked potatoes, which are served with a variety of toppings such as sour cream, bacon, and chives. Other menu items include turkey legs, hot dogs, and soft pretzels, as well as a selection of specialty beverages like frozen lemonade and specialty coffees.
The theming of Troubadour Tavern is inspired by the medieval era, with the restaurant designed to resemble a quaint and cozy medieval cottage. The decor features wood paneling, exposed brick walls, and wrought iron accents, creating a charming and authentic atmosphere that fits in perfectly with the Fantasyland theme.
Troubadour Tavern is a popular dining option for visitors to Disneyland, particularly those who are looking for a quick and convenient meal or snack while exploring the Fantasyland area of the park. The restaurant is located near several other popular attractions, making it a convenient spot to grab a bite to eat in between rides and other activities.
---
Troubadour Tavern | Disneyland Details
---
Troubadour Tavern | Disneyland Reviews
---