Here is everything you need to know about the amazing Disney movie Atlantis: Milo's Return including casting, reviews, fun facts and more. I hope you find this listing informative and helpful!
Atlantis: Milo's Return Description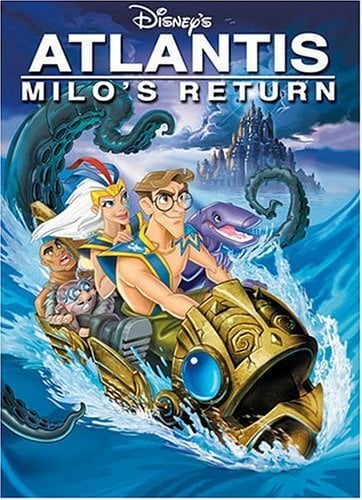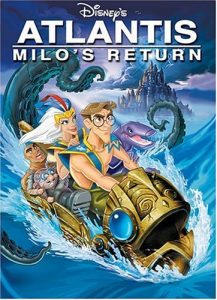 The fearless explorers from Disney's hit animated movie ATLANTIS: THE LOST EMPIRE are back. During his initial expedition, Milo Thatch and company located the famous underwater city and rescued the mysterious kingdom and all its people. Now Milo, Kida, and their crew gear up for more action. The team must leave Atlantis when trouble surfaces above water and they discover mystifying powers at work. From the dusty deserts of the Southwest to the icy heights of the Nordic mountains, the team's newest quest sets them against gigantic sea monsters, spectacular spirits, and powerful legends. In the midst of their excursion, Kida discovers the awesome power of her city's enchanted crystals and, ultimately, must decide whether it is wiser to hide the Heart of Atlantis or share its light with the rest of the world.
---
Atlantis: Milo's Return Cast:
James Taylor: Milo
Cree Summer: Kida
John Mahoney: Whitmore
Jacqueline Obradors: Audrey / Nurse
Don Novello: Vinny
Corey Burton: Mole
Phil Morris: Sweet
Florence Stanley: Packard
Frank Welker: Obby / Mantell
Steven Barr: Cookie
Clancy Brown: Volgud
Jean Gilpin: Inger
Kai Larson: Seaman / Gunnar
Bill Fagerbakke: Sven
Tom Wilson: Carnaby
Floyd Westerman: Chakashi
Jeff Bennett: Sam McKeane
Morgan Sheppard: Erik Hellstrom
---
Atlantis: Milo's Return Crew:
Directors: Victor Cook, Toby Shelton and Tad Stones
Producer: Tad Stones
Music: Don Harper
---
Atlantis: Milo's Return Details
Atlantis: Milo's Return Trailer:
---