Here is everything you need to know about the amazing Disney movie Bolt including casting, reviews, fun facts and more. I hope you find this listing informative and helpful!
Bolt Description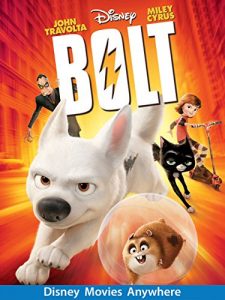 Disney's "Bolt" is a 2008 animated comedy-adventure film produced by Walt Disney Animation Studios. The movie follows the story of a white dog named Bolt, who stars as a superhero in a popular television series. Believing his on-screen powers are real, Bolt becomes accidentally separated from his human co-star and owner, Penny.
Thinking Penny is in danger, Bolt embarks on a cross-country journey to save her, encountering various challenges and making new friends along the way. During his adventure, he befriends a street-smart alley cat named Mittens and a TV-obsessed hamster named Rhino, who believes Bolt is a real superhero.
Together, the trio faces obstacles and overcomes their own fears and insecurities as they make their way back to Hollywood. Throughout the journey, Bolt discovers the true nature of his abilities and learns the importance of friendship and loyalty.
"Bolt" received positive reviews for its engaging story, vibrant animation, and heartfelt moments. It features the voice talents of John Travolta as Bolt, Miley Cyrus as Penny, Susie Essman as Mittens, and Mark Walton as Rhino. The film's humor, emotional depth, and touching themes of identity and belonging make it a beloved addition to Disney's animated filmography.
---
Bolt Crew:
Directors: Chris Williams and Byron Howard
Producer: Clark Spencer
Writers: Dan Fogelman and Chris Williams
---
Bolt Details
Bolt Trailer:
---